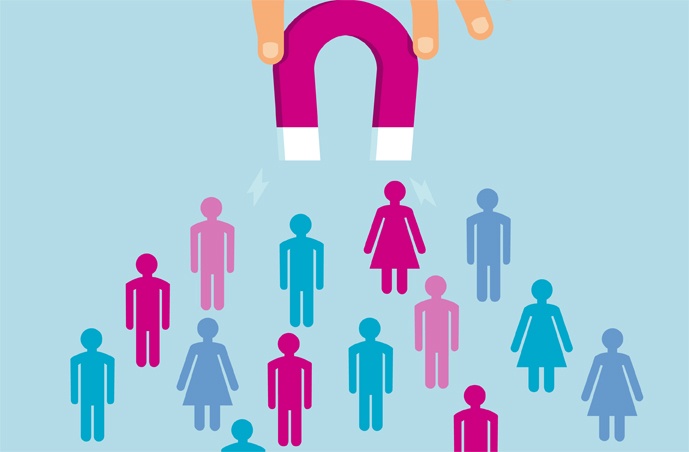 Since 2006, inbound marketing has been the most effective method for doing business online. Instead of buying ads, cold calling, sending emails to bought, unsegmented email lists and praying for leads, inbound marketing focuses on creating quality content that specifically appeals to the pain points of your target personas and that pulls people towards your company and product.
Click here to read more on what is inbound marketing >
So, what do we mean by inbound marketing strategy? It's a specific series of activities that are all focused on the same goal. They are at the centre of your inbound marketing plan, as they bring all of the different steps of attract, convert, close and delight together and they take prospects down the funnel in a target-oriented, focused and measurable way.
Here is exactly how you can plan, deliver and measure a successful inbound marketing campaign that will effectively grow your business and bring you new customers.
1. Drill down the buyer personas
Your business should already have some buyer personas (and if you don't have them, here is an infographic that will help get you started), but when you are planning a campaign, you need to be more focused than ever with them. You really need to get to the bottom of it, go into detail and get to really know who they and their pain points are.
You will never become a leader in your niche if you try and sell everything to everyone, so for each campaign you should choose only one (maximum two) personas and create the content around their specific pain points. You want people to think "they really understand my problem and they are being so helpful in helping me solve it". Your campaign will ultimately fail if you don't make it completely focused on your persona's pain points.
Let's say, for example, that you are a solicitors' firm, and you have different experts in criminal law, housing, personal injury, family, civil litigation, etc. You don't want to create a campaign that encompasses every single branch of your business, as the specific clients you target for each of them are completely different. Therefore, you should create a campaign that is focused on one single branch at a time, and more than that, to one specific target persona for that branch (e.g. a campaign that is targeted only to first-time home owners and one that is for buy-to-let buyers).
2. Define your content strategy
There are a few things you need to do first of all in order to define a content strategy that is really effective and converts leads.
Set your goals
One question I often get asked is: how can I measure the effectiveness of my campaigns? You can do that by setting very specific goals for each step, so if you don't reach those goals, you know in which step you need to intervene in order to improve your success rate. For instance, if your blog is attracting lots of people to your landing page, but your landing page is not converting a big enough percentage of those visitors into leads, you might need to rethink the wording of it, or shorten the form.
You should always keep in mind 3 very important metrics throughout your whole campaign:
Visitors - number of unique visitors to all pages (blogs, landing pages, etc.) connected to the campaign
Leads - number of new contacts coming from the landing pages of the campaign
Customers - number of new customers acquired through that particular campaign
Setting a timeline and a deadline is also very important to make all your efforts measurable and make sure you are on track for success. Therefore, for each campaign, you need to have SMART goals, based on your overall business goals, such as:
Attract X number of visitors focused on Y by DATE
Convert X number of leads focused on Y by DATE
Close X number of customers focused on Y by DATE


Understand the buyers' journey

On top of your buyer personas, you also have to consider the buyer's journey through the sales funnel. The reason for this is that you need to give people the right content at the right time, and getting this wrong might mean losing the prospect forever.
There are 3 stages of the buyer's journey:
Awareness stage: the person is trying to identify their problem
Consideration stage: the person is researching the solutions for their problem
Decision stage: the person chooses the solution and makes the purchase
For example, let's say you've been experiencing a headache for a few days. What you might do is go onto Google and type in "what are the causes of a headache", and discover that it could be caused by lots of different things, including stress (awareness stage). You then go onto researching what solutions you have to reduce your levels of stress, such as doing yoga, taking stress-management classes or cutting down on your workload (consideration stage). You decide that yoga might be the best option for you, so you look into the studios near you and which one is the best for your specific problem, and call to book a class (decision stage).
If you understand this process, and create content for each of these stages, making it easily discoverable through Google and other tools that your target personas might use (e.g. social media), then you can be the one that provides them with the right information and solution at the right time, and you have got yourself a new potential client.


Outline the main content

As mentioned above, you want to create different content offers based on where the prospect is inside the buyer's journey. For this reason, for each campaign you want to create 3 different pieces of content, each with their own calls-to-action (CTAs) and landing pages.
Here are some content offer examples you might want to use for each stage.
Awareness stage content offers:


Videos
Free tools
Analyst reports
Research reports
eBooks
Whitepapers
Educational content



Consideration stage content offers:

Expert guides
Live interactions
Webinars
Podcasts
Video
Comparison whitepapers



Decision stage content offers:

Vendor comparison
Product comparison
Case studies
Trial download
Product literature
Live demos
When it comes to the content offer, you want something that is ever-green so that it will bring in leads for years to come and it will give you a higher return on the time invested in creating it.


Identify your keywords
The modern buyer's journey often starts with Google now, and given that you want to be where the people are going to look for you, it's important that you get visibility on the search engine for the keywords your target personas use.
For each campaign, you want to identify one long-tail keyword that will be the thread throughout all of the content that you will produce inside the campaign, and help with the SEO. This needs to be a specific keyword that your target persona would put into Google to find your content.
After you have found that, you can also brainstorm a series of related keywords, that are more or less competitive, and use them for all the different pieces of cluster content inside the campaign.


3. Create your content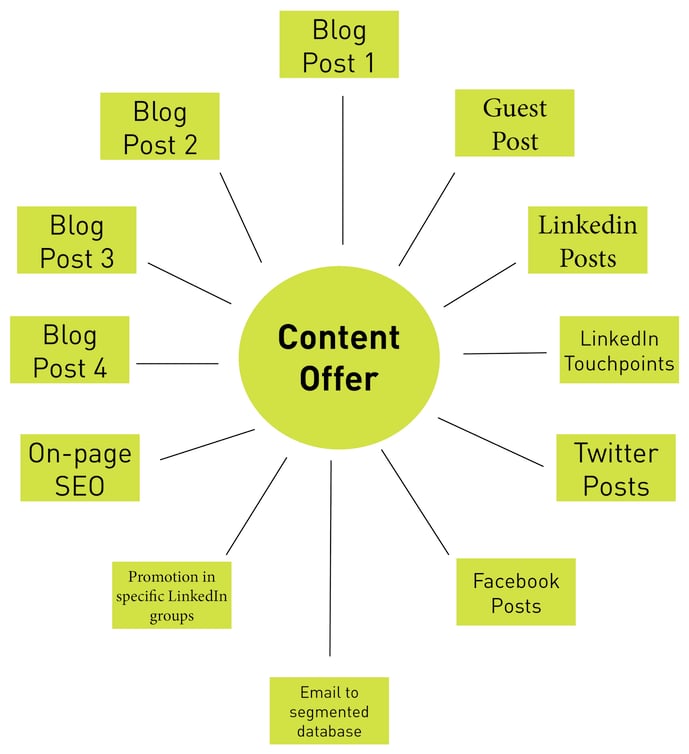 You have identified your main content offer in the previous step (also called "pillar content"), and now you need to find a way to promote it and share it with the world. Here is where your blog, social media and SEO (also called "cluster content") comes into play.
These are all part of the attract phase of the inbound methodology, that is aimed at converting strangers into visitors on your website.
There are a few cluster content ideas you can choose from to promote your pillar content:
Blog posts around the same topic of the pillar content
Social media posts promoting the content offer using your accounts, partner accounts and in specific, relevant groups
Guest posts around the same topic and posted on other publications and blogs to attract also their traffic onto your landing pages
On-page SEO optimisation for every piece of content based on the campaign's key-words
Pay-per-click advertising to speed up things if your website doesn't organically attract many visitors right at this moment
Emails to a specific segment of your database that might find the topic interesting or useful
Videos that explain the same concepts in a different format
Essentially, the difference between your pillar content and your cluster content is that the first is quite broad and ever-green, whereas the cluster content, especially in terms of social media and blog posts, is more targeted at very specific aspects and pain points of your personas.


4. Define your funnel
In the next step, you need to map out the funnel for your prospects.
Calls-to-action, landing pages and thank you pages

Call-to-action (CTA): these are links, banners or buttons that prompt the viewer to perform some sort of action, such as "download the white paper" or " register to the webinar". These are placed on your cluster content, such as at the end of each related blog post, on your social media accounts and in your emails.
Landing page: each call-to-action should take you to a bespoke landing page, which

is where the offer is fulfilled. It needs to give some information about the content offer promised in the CTA and have something on there that enables you to capture the user's data, such as a form.

Thank you page: once someone has submitted their information through a form on a landing page, they should be taken to a "thank you page". There you can thank the newly-converted leads for filling out the form and deliver the content offer through a download link. For bonus points and extra optimisation, you can also have a call to action for another content offer that takes the lead down the buyer's journey funnel. For instance, if they have downloaded an "awareness stage" content offer, put a call to action to a "consideration stage" content offer in the same campaign.


Lead nurturing workflows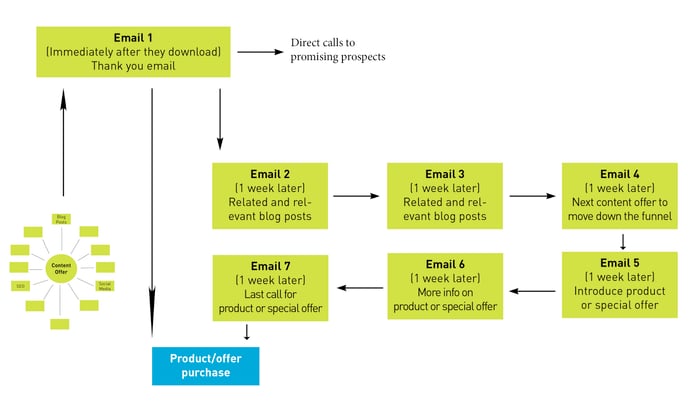 A workflow is a series of emails that is triggered automatically on your platform (through the use of HubSpot, InfusionSoft, Mailchimp, Marketo, etc.) whenever someone performs a specific action on your website.
The aim of the workflow is to get prospects down the funnel. In fact, once you have captured their details, you want to nurture those leads and close them into customers.
To get more opens and engagement from a workflow, make sure that it is focused around a meaningful action that a contact takes, for instance when they visit a certain page on your website, or download a content offer, or sign up to your newsletter.
You should map out the journey you want to take your prospects down, similarly to what we did in the image above. Make sure all the content you send out is relevant to their interests and their action. For instance, if they have downloaded a white paper about bicycles, you don't want to start sending them lots of content and information about cars. Keep it relevant and contextual and you will get a lot more engagement and less unsubscribes.
There are essentially 5 kinds of emails in each workflow:
Build trust with relevant content (e.g. related blog posts)
Offer an additional download that takes them down the buyer's journey
Call-to-action that prompts them to buy your service or schedule a consultation/demo
When the prospects shows no interest in your workflow or doesn't engage with your emails, you want to send them a break up email, making it clear that it's going to be the last time you are going to contact them about that specific topic, so if they want to take action, now is the time

Conclusion
The crucial thing to do in order to make sure every campaign is a success, is to always analyse what has worked and what hasn't by measuring it against your conversion goals. Optimise and test every step, and if you find that, whatever you do, one specific content offer or campaign does not convert any leads, concentrate more of your resources on those that have a higher conversion rate.