FREE GUIDE
The B2B Marketing Strategy Handbook
The must-read e-book for all B2B leaders!
We put together our 20+ years of knowledge and experience on how to develop successful strategic marketing plans for B2B organisations in an insightful and practical guide. After reading it you will start viewing challenges from a different angle and have a solid framework for your marketing plans that is goal and strategy-centric and will give you much better results.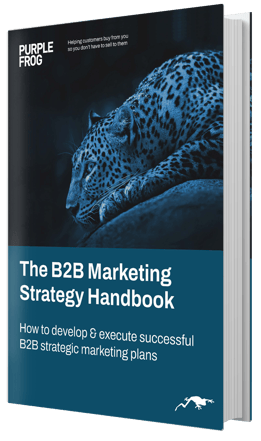 This insightful and practical handbook includes:
What it means to be truly strategic with your business growth activity and why it is important
Why the traditional sales funnel is broken and how to fix it
How to calculate your customer acquisition cost and use it to determine a sales and marketing budget and measure true ROI
The ORBIT framework and how it can help you with all your marketing strategies and plans
The value of thought leadership for B2B What are the B2B2B and B2B2C models and what they mean for marketing
How to increase customer loyalty and retention
You will only succeed in creating a strong strategy if you are willing to challenge your pre-conceptions, ask yourself the right questions and dig deep into the core of your company and your target audience.
Who is this handbook for?
Directors working in in a B2B organisation, professional services company or scale-up business, including:
Chief Marketing Officers
CEOs
Commercial/Business Development Directors