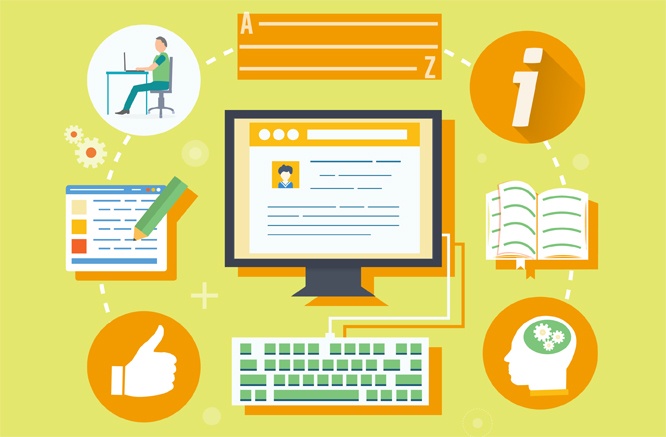 Today there are 76.5 million blogs on WordPress, with 50k new ones added every day, according to DMR. These statistics make one wonder what one's possibilities are to get noticed on the web nowadays. It took me 12 months to bring my first blog to success, and that was back in 2009, when there weren't as many blogs out there and the competition for the readers' attention wasn't as tough. In order to become a successful blogger, you must have patience and perseverance, keeping at it for months before you start seeing real results, and spend just as much time promoting your blog as you do writing it. However, there are a few things that could speed the process up a bit for you, and help your blog get noticed sooner.
Here are 5 tricks you can use to effectively promote your blog.

1. Guest Posting
In simple terms, guest posting is writing content for other bloggers or websites to publish. It enables you to really expand the reach of your blog posts by exposing them to a whole new audience, earn organic links to your website, network with other bloggers and establish yourself as a thought-leader.
Many bloggers swear by the fact that guest posting is what made their success. Leo Widrich, the co-funder of BufferApp, claimed that writing 150 guest posts in the first 9 months of their business, made them acquire 100,000 customers. Who wouldn't want 100,000 new customers in less than a year!
Some tips for guest posting:
Your guest articles should always be original and well-written. This is really what will make other bloggers accept the guest posts you pitch to them. If they are very interesting, well researched and relevant, then they will be a lot more willing to work with you.

Make it focused on the audience of that blogger, not yours. Bear in mind that your guest post will not be seen by your usual readers, but by those of the website you are guest posting on, so it has to resonate with them and reflect the style of that blog.

Send readers back to your website, or even better create a landing page especially for them with an overview on who you are. Don't overdo it though, you don't want to be promoting yourself too much through the guest posts. Just 1-2 links maximum inside the text or in your bio at the end linking back to relevant posts on your blog will be enough.

Search for bloggers in your niche. Start from a search in Google, by inserting keyword + "guest post" or "write for us" to immediately identify those who usually accept guest articles. Do a selection of the ones you think could be a good fit for your guest post, and get in touch with them with a concise pitch.

Promote your guest posts. Just as it's important to promote your own blog posts, make sure you share your guest articles too, so that your audience will also read them and you will build a good relationship with the other bloggers, in order to continue working with them in the future.
2. Social media
Sharing your blog posts on social media after you hit "publish" is absolutely crucial. It's the best way you can place your blog in front of the eyes of a large amount of people.
You shouldn't only post on social media right after you have published your article, but also a few times after, if it's still relevant. Neil Patel has created a very useful image to identify when and how many times you should promote your posts on each social media channel.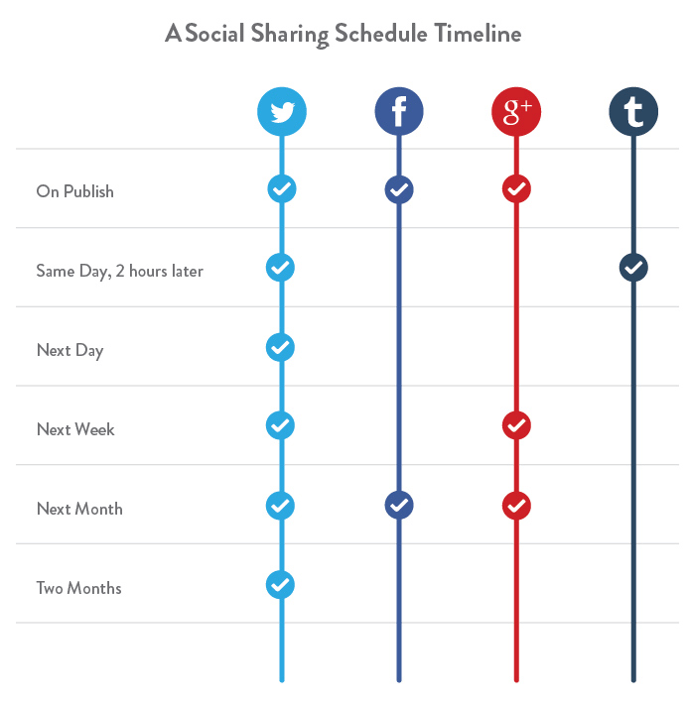 On certain social media channels, like Twitter, you shouldn't only publish the links to your blog posts, but also make sure you are part of the conversation around that topic. The most efficient way to do that is to set up a Warble alert for your keyword, and engage with those members that talk about it. After a few interactions with them, you can share the link to your article and ask for their feedback. More often than not, they will re-tweet your link and expose it to their own followers.
Other than social media, you should also consider social communities, such as Reddit. Whenever I publish a blog post, I immediately share the link within a relevant subreddit so that everyone subscribed will see it. There are subreddits for virtually anything, so just search your keyword and subscribe to all relevant ones.
3. SEO
In order for people to discover your blog through the search engines and build up organic traffic, you have to make sure all your SEO is in place.
First of all, you should identify one long-tail keyword for every blog post you publish. What I mean by long-tail keyword is one that is more than 3-4 words long, and that is quite specific. Because there is so much content online now, all the general keywords (such as, for instance, "car insurance") are saturated and dominated by very large corporations. If you want to get on the first page of Google, you need to select a much more specific and longer keyword (such as "car insurance south London"). You can use tools like the Google AdWords Keyword Planner or KeywordTool.io.
Once you have done that, here are 5 basic SEO settings you need to check in every post you publish:
You have your main keyword in your title, headings and body

Your keyword is present in the alt-tag of all your images

You have a few relevant internal and external links in your body

Your keyword is in the URL

The article is longer than 300 words
There are a lot of other SEO tricks you could use to optimise your blog and website even further, but these are the essential ones you should always remember to check.
4. Email influencers
If you are writing a well-researched, good quality article, your content will have most likely been informed by other articles you read. It's absolutely fine to quote someone else's thoughts and ideas, as it's a sign that you have done your research and your own words and ideas are backed up by someone else.
However, you should always link back to the website or article you got your information from, and, after you hit publish, you can also write a quick email to all those people mentioned in your blog post, thanking them for their contribution and sharing the link to your article with them.
If they like it, they will be inclined to share it with their followers on social media, helping you out with the promotion of it. Bingo!
5. Newsletter
Last but not least, you should keep your subscribers up to date with your blog. You won't find a more receptive audience for your content anywhere else.
Send them a weekly or monthly newsletter with a roundup of your blog posts, so they can easily read them, and ask for their opinion and feedback.
Conclusion
Your blog promotion is just as important as your blog creation, and the more early-stage your blog is, the more time and effort you will have to put into its promotion, but in the end it will all be worth it.
Do you have any more methods for promoting your blog? Which one is the most effective for you?
Read more articles in the "Blogging for Business" series:
The 5 Steps to Create an Editorial Calendar