What is Inbound Marketing?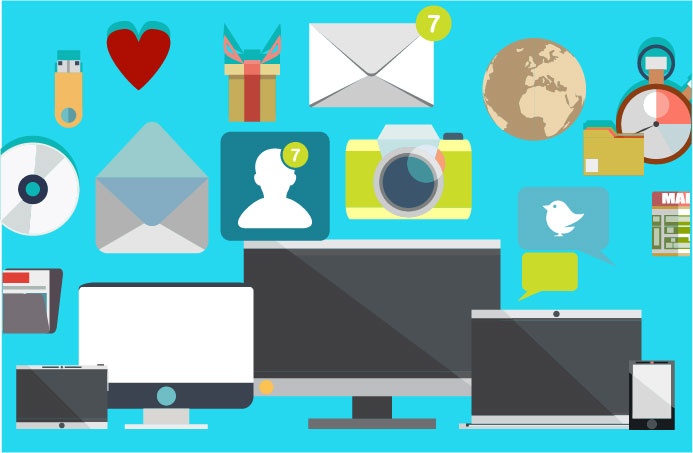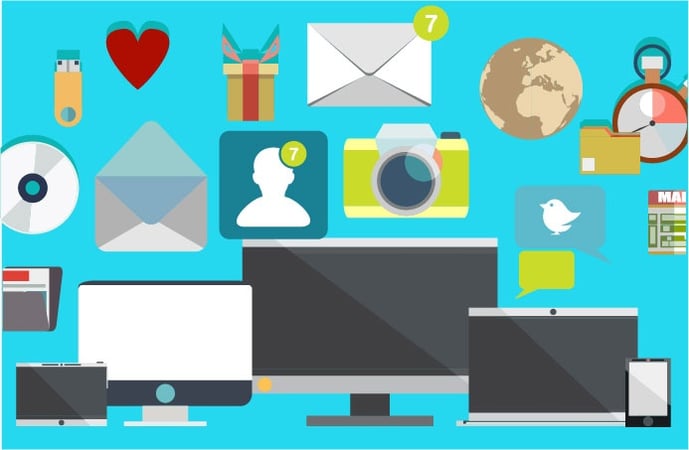 Since 2006, inbound marketing has been the most effective method for doing business online. According to the State of Inbound report, the reason for this is that it generates 3x more leads than traditional marketing and it costs 62% less per lead. This is because it takes away the cost of printing marketing collateral and buying email lists, and it attracts customers in a much more organic and cost-effective way.
People today buy differently than they did 10 years ago, and they want to make much more informed choices. The modern buyer's journey often starts with Google now, rather than with traditional advertising. Buyers have transformed how they consume information, research products and services, make purchasing decisions and share their views and experiences. The customer is more in control than ever — and tunes out traditional sales and marketing messages more than ever.
Additionally, the number one reason why inbound trumps outbound is the possibility of tracking and measuring every single step of it, so you know exactly what methods are working and which aren't, and you can optimise your efforts so that you get much better results.
Inbound marketing starts from a very simple observation: people do not want to be interrupted by marketers or harassed by sales people. They want to be helped.
In this post I will go through exactly what inbound marketing is, why it's so effective and its methodology.
What is inbound marketing?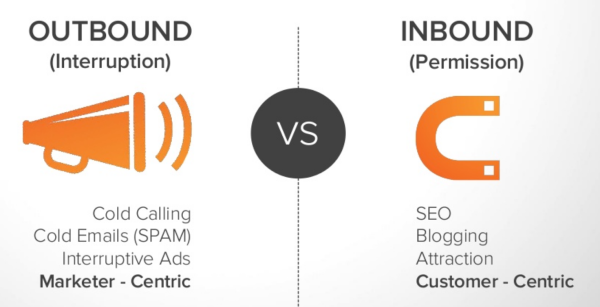 Instead of buying ads, cold calling, sending emails to bought, unsegmented email lists and praying for leads, inbound marketing focuses on creating quality content that specifically appeals to the pain points of your target personas and that pulls people towards your company and product.
It's a complete shift of perception, as your marketing, instead of being all about what the marketer or the company wants to say, becomes customer focused, centred on what the customers actually want to know or learn. Instead of banging on close doors and pushing your message out to the people, you attract the customers to you.
The aim of inbound marketing is being part of the conversation and going where the customers are, helping them make more informed decisions and offering them solutions tailored to their specific pain points. By publishing the right content, in the right place, at the right time, your marketing becomes relevant and helpful to your customers, not interruptive.
The inbound methodology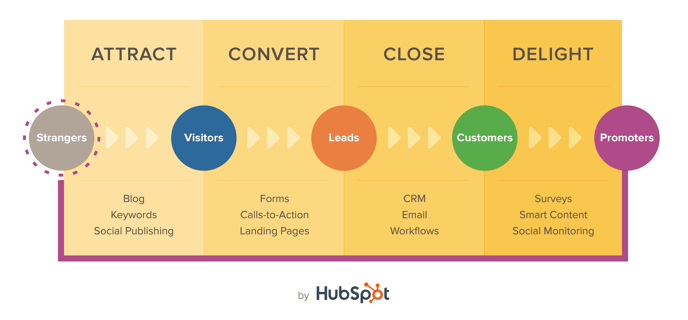 The inbound methodology, created by Hubspot, a recognised leader in inbound marketing (they actually coined the word itself), facilitates the buyers' journey through the sales funnel – from strangers to promoters of your brand.
Along the top, there are the four actions (Attract, Convert, Close, Delight) that inbound companies must take in order to obtain visitors, leads, customers, and promoters. Along the bottom there are the tools that companies use to accomplish these actions. Let's have a look at all the various stages and tactics to implement them.


Attract strangers and turn them into visitors
Because you don't want to attract just any traffic to your website, but only the right kind of traffic, it all starts from creating some very specific target personas for your business. You need to identify exactly who you are targeting and visualise them, giving them a name and a real identity. Next, you need to indentify their specific pain points and the solutions you can provide to address them. In this way you can build your whole strategy around them.
Once that is done, these are some of the ways in which you can attract them to your website:


Targeted and focused blogging. By blog we don't mean an online personal diary, but a highly targeted, focused collection of helpful content that addresses your target personas' pain points and answers their questions. According to The State of Inbound, companies that blog generate 126% more leads than those that don't. Additionally, the more targeted and populated your blog is, with articles that are posted weekly, if not daily, the more effective it will be for your lead-generation.


SEO. In order to get found by search engines and attract the right kind of organic traffic, you need to have the right keywords in place. We already said that the modern buyers' journey starts from Google, so you need to make sure you're appearing prominently when and where they search. If you want to learn more about this, we have created an article on "What is SEO?"


Social media. You want to be part of the conversation and find people where they spend their time. Therefore, social publishing is one of the best ways to show your content to the world, connect with the right target personas and make your brand more "human".
Convert visitors into leads
Once you've attracted website visitors, the next step is to convert those visitors into leads by gathering their contact information. A visitor becomes a lead whenever they give you their details, show an interest in what your company has to offer and/or give you permission to contact them.
Contact information is the most valuable currency there is to the online marketer. So, in order for your visitors to offer up that currency willingly, you need to offer them something in return! That "payment" comes in the form of content offers. Let's see the process in which a visitor can become a lead on your website.


Calls-to-action. You don't only want people to land on your pages, but also to do some sort of action once they are on the website.

Calls-to-action (CTA's) are buttons or links that encourage your visitors to do something, like "Download a Whitepaper" or "Attend a Webinar."

They should be placed in strategic places on your website, such as in your blog articles, on your homepage and on specific product pages.


Landing pages. When a visitor clicks on a call-to-action, they should always be taken to a specifically-made landing page. A landing page is where the offer in the call-to-action is fulfilled. It needs to give some information about the content offer promised in the CTA and have something on there that enables you to capture the user's data, such as a form. For example, have a look at this landing page we have created for one of our free tools.


Forms. The best way for your visitors to give you their contact details is through an optimised form placed on your landing pages, where they can give you the information

that your sales team can use to begin a conversation with them, in exchange for a content offer.




Content offers. Webinars, ebooks, white papers, guides, cheat-sheets and templates are all brilliant lead-generation content offers. They attract the right target personas and convert them into leads by getting them to download it from the landing pages, after they have filled in a form.

Close leads into customers
Once you have a number of leads, it's time to turn them into customer and generate sales for your company. It might seem to you like a sales department's job, and therefore not your responsibility, but there are certain marketing tools that can be used at this stage to make sure you're closing the right leads at the right time, and qualifying them enough so that the leads you give to your sales reps are really high quality and ready for the purchase.


Segmented email-marketing. If you just buy a mailing list from a third party and start spamming the recipients with lots of information about your services or products, you will waste a lot of energy and effort to see very little results. Instead, aim at building your list in a much more organic way, by asking people to opt in it themselves and share with you some of their personal information, which might help you identify who they are and how you might be able to help them. Segment your mailing list based on your target personas, and send each segment only the relevant information they might find useful for solving their specific pain points. In this way, you are only sending them what they want to read and you grow their relationship with them.


CRM. Keeping your customers' details up-to-date is the right way to ensure sales success. You need to be communicating with your sales team and they with you at all times, and

Customer Relationship Management (CRM) systems with a closed-loop reporting facilitates this communication and makes sure everyone has the right information at their fingertips to better engage with prospects across every channel, and ultimately close the sale.




Lead-nurturing workflows. You can create automated email workflows that are triggered whenever a lead performs a specific action on your website.

For example, if a visitor downloads a whitepaper on a certain topic from you, you might want to send that lead a series of related emails with more relevant information and bring them down a path of discovery, education and ultimately offer them your solution in the form of a consultation or trial. These can be highly personalised and targeted, taking the leads down different paths depending on their industry, what pages they have visited on your website, whether they follow you on Twitter or not, etc. The aim is to qualify them further and make them ready to buy.

Delight your customers and turn them into promoters
Your goal is to make your customers happy with you so that they will promote your company to other businesses and refer you to new potential prospects. Additionally, a happy customer will come back time and time again, buying more products or services from you. Of course, doing a good job and delivering the work in time is the first fundamental step to delighting your customers, but to take things to the next level and go the extra mile, these are some tools that you can use.


Surveys. The best way to figure out whether a customer is happy or not is by asking them. If you have the possibility of chatting to them on a regular basis and asking them directly, that is ideal, but if your customer base is too wide and it's too hard for you to go through them one by one, a survey is the next best thing you can do to

ensure you're providing customers with what they're looking for.




Smart content. Contextual marketing is the next big thing within inbound marketing. Smart content presents different users with offers that change based on their buyer persona and lifecycle stage.

In simple words, your website's text and content changes based on who, among your contacts, comes on your website, so that the content they find is tailored specifically to their interests and challenges. This helps them achieve their own goals, as well as introduce new products and features that might be of interest to them.




Social monitoring.

Keep track of the social conversations around your company and key-words. Listen out for your customers' questions, comments, likes, and dislikes – and reach out to them with relevant content.
Conclusion
The best way to make inbound marketing work for you is by defining specific goals and targets and develop a plan to reach them. You need to create a strategy that really works for you and your target personas and keep tracking, measuring and optimising everything you do.