Watch Me, Watch Me, Watch Me! Why is Great Video SEO so Important?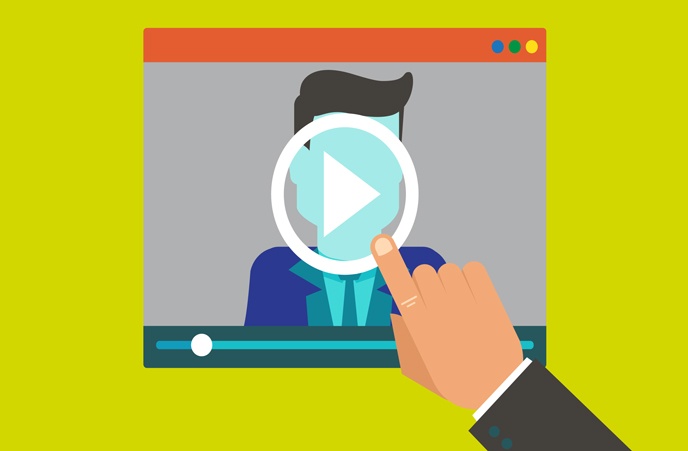 Without wanting to sound like a broken record, Google determines (for the most part) how much visibility your content gets and who sees it.
The struggle with keeping up with Google's latest algorithm can seem like a thank-less task, but their mission to keep the internet fresh, up-to-date and ensure that users are presented with the latest, most relevant information available is one that needs constant re-jigging.
This is an information game after all. But what, exactly, does videos and SEO have to do with this?
Although this may seem old news, Google purchased the video streaming platform YouTube way back - get ready I felt immensely old when I read this - in 2006! And as the 10 year anniversary comes up the importance in videos and watch-able content is ever increasing.
Inbound marketing experts at HubSpot note that 78% of people watch videos online every week, and by 2017 they believe that video will take up 69% of consumer internet traffic. This underlines the huge wave of users that consumer content in video form.
Google therefore has placed immense importance in videos and now ranks YouTube videos in its first page of results if deemed relevant enough.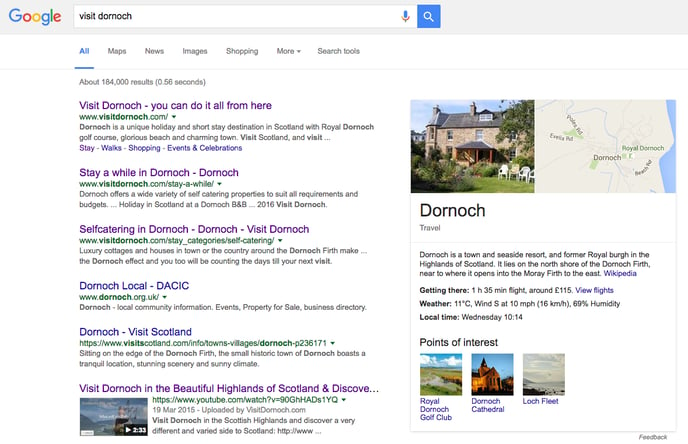 A simple search of our favourite Scottish town immediately brings up a video within the first 6 results on the first page. On a mobile device, this would play on-page and actually be higher in the returned results - likely position 1 or 2. Essentially if users want it. Google will show it. And if Google wants it, we must show it!
This leads of course to a question of, why? Why is Google and mighty Digital Marketeers everywhere putting so much emphasis on videos and watch-able content? The answer has at least two channels for further exploration - the focused nature of the users and a great way of increasing organic ranking.
Targeted viewers
With more and more users watching content rather than reading it, it makes sense to put time and effort into ensuring videos and where they appear in Google is foremost on any SEO to-do list.
Although your video may have little to no views sat in YouTube, getting into Google search results can dramatically increase the views it gets. Not only quantity but, crucially, quality of those views.
According to Hubspot, over 65% of people who click on videos in Google watch 3/4 of that video! Wouldn't you just love to get that sort of engagement across your content?
Although we are often told (guilty as charged!) that consumers attention spans are shorter than ever and users click off sites, blogs, videos and just about everything within 5 seconds if they aren't immediately captured by what they see.
To get 65% engagement on videos illustrates the opportunity that is available to companies for engaging with current and capturing new audiences alike. Getting your video ranked organically in Google can drive important new traffic to your site as Google now recognises that users want their information presented to them in the form of direct, watch-able content.
With correct calls to action embedded within the video itself or in the description below, conversion can directly increase as a result of correct video SEO best practice. Josh Hardwick of KissMetrics believes that SEOs aim is to not only to increase targeted traffic but to directly improve leads, conversion and customers.
For him, optimising video content so that it appears in Google can be an immensely powerful tool for increasing conversions for almost any business. Calls-to-action, links through to the website and catchy, informative titles are all key best practice procedures that should be followed in order to push your video up Google's rankings.
Organic ranking
As above, getting content into Google at all is crucial for increasing your visibility. However the entire process can be aided to another level through correct and clever video SEO.
Social shares on content applies to and throughout all content, and the same naturally applies to video. However, the likelihood of it actually be shared goes through the roof with video content.
We have all shared videos that we deem funny, thoughtful or downright useful on Twitter, Facebook and, (when they aren't cat videos), LinkedIn.
HighQ believe that 54% of Senior Executives share content at least weekly within their work networks. So you can imagine the range a great video has once it is placed in a truly social environment. This has importance from a Digital-Marketing-SEO sense as Google directly looks for social sharing as part of its PageRank algorithm.
Google deems sites that have high social shares, likes and mentions in tweets as therefore more relevant to a searcher so hence rank them higher. The more the merrier, and creating landing pages behind your video will neatly draw users into your pages and encourage them to share the page as a whole.
This will also improve the all important off-page SEO by increasing the number of backlinks to your site and video. Again helping your organic standing within Google.
Conclusions
Apart from the obvious strapline 'video SEO is dead important', what else can be take from this blog?
Simply, that now is the time to look into investing your marketing budget into videos and directing focus of SEO campaigns towards optimising videos.
The brilliant Josh Hardwick thinks now is the time to see a great ROI from investing wisely in video and the SEO surrounding it. Although it may be a short term cost, it usually isn't any more than those pesky whitepaper's or infographs that you've spent weeks and months creating.
Video's, especially well-planned ones, will give you long term visibility and optimised search engine visibility will increase traffic quality as well as leads, conversions and eventual customers.