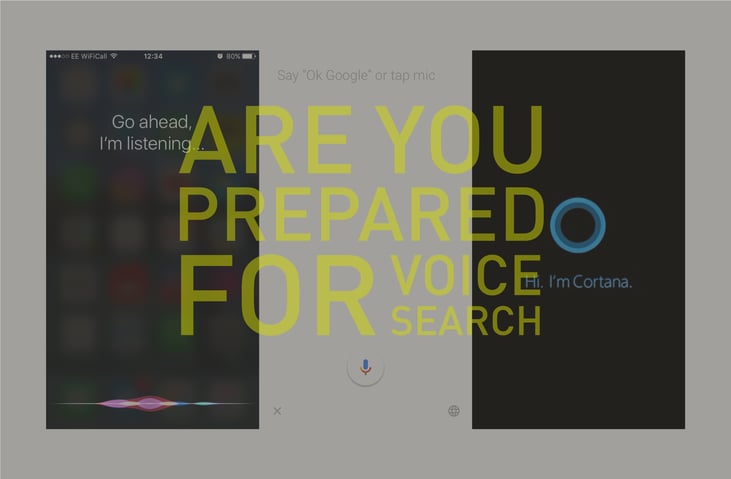 Whether you use it personally or not, the volume of searchers utilising voice search in Google and on mobile devices' means a change in the way SEO works. Google as recently as May (2016) announced that they would be increasing "the effect of the ranking signal" for mobile friendly ranking. Google stated that this aimed "to help our users find even more pages that are mobile-friendly."
Although they promised that this wouldn't be as large as Mobilegeddon and would be rolled out slowly, it still raises the question of how should we be altering our approaches to SEO and on-page structure? As always with SEO this is crucial to ensuring you don't fall behind the times and fall short of SEO success!
Does this ACTUALLY effect us?
In one respect very little will change in the short term. People were beginning to use Google as if it were a real person anyway. The introduction of 'Okay Google' and 'conversational search' has merely reinforced this trend. A recent Google study showed that 55% of teens and 41% of adults use voice search, a large portion of your searchers will likely be using it to some degree.
Searchers were already typing questions into Google that you would normally ask a teacher or superior anyway. From questions like 'How do you draw a semi circle on illustrator?' to "Do penguin's have knees?', the trend of treating Google as the first port of call to life's most basic and complex questions has been around a while. (Although quite how we class penguins and their knees as one of life's more complex questions I don't know!)
The long and short of this is how people interact with Google and what they exactly type in. If users were already structuring their questions as you were speaking to Google then it all stays the same right? Well no. Rand Fiskin makes some very good points surrounding the rise in instant answers and Google's response to being asked a direct question.
Instant Answers
So naturally, what is an instant answer? It is exactly what it sounds like. When you ask Google a straight forward question (or not), the search engine will determine whether it can give you a one or two sentence answer: if it can, then the answer - with a cited source - will appear in a box underneath the search bar. This has been dubbed by Dr. Pete from Moz as, 'The No.0 Position' due to the fact it appears before even Google Ads!
For example: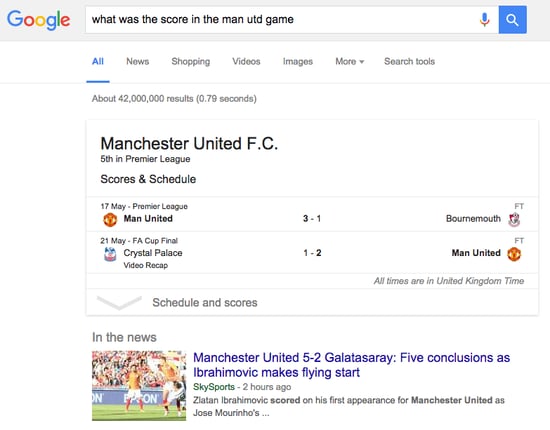 And on mobile...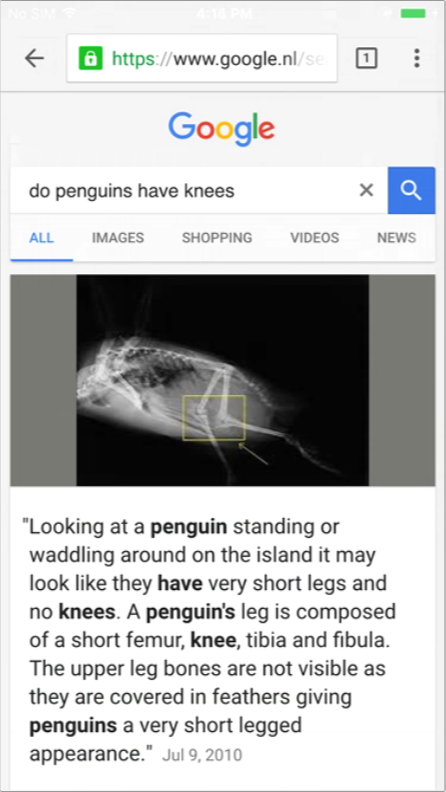 This could be a question you would ask your friend, but Google feels able to give you a simple, quick fire answer. The same applies to weather questions, stocks and even more complex tasks such as bullet points for the question above about illustrator and semi-circles. (Believe me its more difficult than you might imagine!)
But here lies the problem! Google is almost undercutting you when it comes too CTR and traffic to your site! You are essentially appearing on Google (an Impression), giving the information to a user without actually receiving their Click or Session on your page/ site.
Rand therefore notes that we can work out what is 'at danger' of being swallowed up by this Google algorithm and information that is 'safe'. Working out which information is too complex for Google and which isn't could mean the difference between a drop off in your traffic or an increase.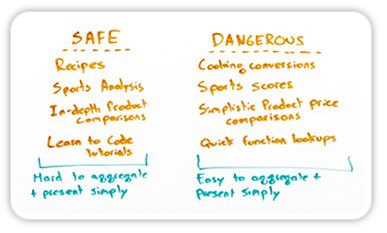 This has a massive impact on e-Commerce sites and on-page e-Commerce SEO. As the image above suggests, product pages and prices are at risk at being the perfect simplistic data that Google can index and present on its SERPs (although they will link/ credit your site for the information).
Combating this is tricky but is down essentially to clever formatting of your pages and understanding "it's very likely that people will actually be clicking through to learn more about that subject". Thus you want to ensure your content is pulled though with just enough information to wet searchers appetites to make them click through onto your site.
It's not all bad!
So fear not, Google wouldn't just 'steal' people's information and there are some direct SEO successes to getting yourself into that instant answer box. Rather obviously, its right at the top of the page. This will ensure your site is served up first and for Google to place you there you must have some pretty high value content on your site. Furthermore, according to Moz, CTRs and overall traffic are actually very high for sites that get into the instant answer box.
In terms of voice searching this is crucial as people are more likely to ask simple, instantly answerable questions on their mobile devices where voice search is so prominent.
Conclusions
So what needs to be done? The solution - in the short term at least - requires the same, but perhaps more in-depth, keyword and phrase analysis that we have been talking about of the course of our SEO blogs.
What are people looking for? You can no longer populate your pages with just words that you think searchers may be looking for. You have to be producing content that focuses around phrases, problems, questions and solutions that your target audience are going to be looking for and that Google can index correctly in order to place you as high up the SERP as possible!
This is certainly a subject that will continue to run and it will be interesting to see what trends pop out of this newly shaped voice-based search world.