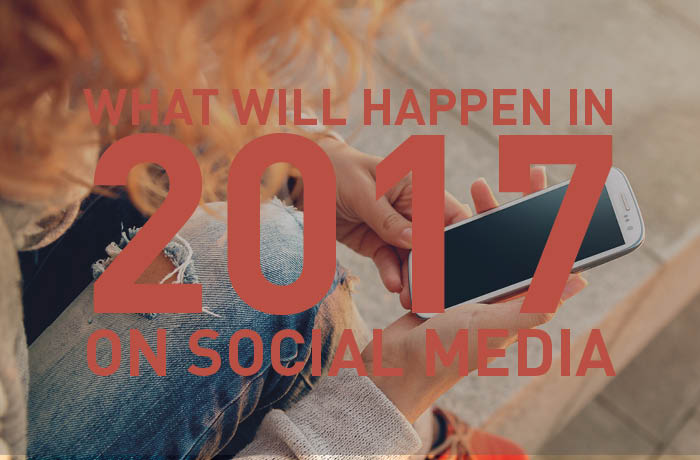 Article by Christelle Macri
Over the past ten years, social media has transformed the way we communicate with one another and the way businesses communicate with consumers. However, the world of social media is constantly evolving, with new trends emerging all the time. With the new year approaching, here are ten things I am certainly going to keep an eye on in 2017.
1. Facebook's Live Streaming
Facebook has been placing an increased focus on video content for several years, but the site's new 'Live' streaming function will present a huge opportunity for marketers. A key benefit of this feature is instant viewer feedback, while it also has the potential to allow consumers to feel closer and more up-to-date with their favourite brands.
2. Emphasis on Artistic Posts
As Jayson DeMers from Forbes points out, practical posts on social media are not always the best way to reach a large audience and viral content tends to appeal more to the emotions. In the year ahead, marketers are likely to focus on artistic content, which sparks the imagination, rather than overtly marketing a product.
3. Selective Social Media Marketing
Many businesses have already started to be more selective about the social media sites they use and this is a trend that will continue in 2017. Businesses will prioritise platforms based on their value to them. For example, businesses with physical premises targeting local customers are more likely to prioritise Google+ (and especially Google My Business) as well as Facebook, perhaps even outsourcing to a company specialising in a local SEO service, but an office-based firm targeting the B2B sector may prioritise LinkedIn and Twitter instead.
4. Marketing Via Virtual Reality
Virtual reality headsets have been one of the major technology stories of 2016 and while their price remains prohibitive, 2017 is likely to mark a turning point in terms of social media marketing. Again, Facebook is expected to lead the way and its 360 degrees images represent one potential avenue for marketers to explore.
5. A Twitter Resurgence
The past few years have seen many predictions about the demise of Twitter, but while the platform still has its problems, 2017 is likely to see a resurgence. Much like Facebook, Twitter is banking heavily on live video streaming, and its status as the way to talk about live events will help to keep it relevant, while making it extremely useful for digital marketers seeking out live interaction with an audience.
6. Instagram's Stories Feature
We are living in an age of disposable media and while Snapchat was the first to recognise the potential of expiring content, Instagram have jumped on board with Instagram Stories. Videos and images shared using this feature will delete automatically after 24 hours, making urgent or time-limited content the order of the day.
7. Paying For Visibility
With Instagram joining other social media sites in removing chronological timelines, automatic visibility is a thing of the past. As a result, paid marketing will be more important in 2017. This trend will also make visibility in other areas more important, so you should invest in a high quality SEO service to boost brand awareness.
8. Making Marketing Personal
Consumers are becoming more cynical towards marketing and this means an extra level of personalisation will naturally become more effective. Re-targeting on platforms like Facebook has a role to play, ensuring people only see things that are relevant to their interests. Meanwhile, many businesses will end up targeting niche areas to combat over-saturation of the market.
9. More Valuable Content
Click-bait articles and snappy headlines remain all the rage on social media, with people sharing articles before they have even been read. However, we are already seeing a backlash against this type of content and that will continue into the new year. Instead, social media marketers will start to align their best practice with those of any good search agency and focus on delivering genuinely useful content that resonate with their audience's problems or interests. The trick will be keeping these articles shareable and entertaining.
10. Social Media as a Search Engine
Any search agency worth its salt will tell you that social media platforms are search engines in their own right, but the sites themselves are working to improve this aspect of their service. Facebook, in particular, has found success, reaching 2 billion searches per day and marketers should consider how to apply SEO tactics to social media.
About the Author: Christelle Macri is the founder of ClickJump, a leading seo agency in Berkshire, with a no-nonsense and ethical approach to digital marketing. She is also SEO specialist with over 17 years' experience in the internet advertising industry. Having worked for a major search engine and pioneering pay for performance advertising networks, she is an expert at turning her clients' websites into consistent revenue streams, using a variety of digital channels. Feel free to connect with her on Twitter.