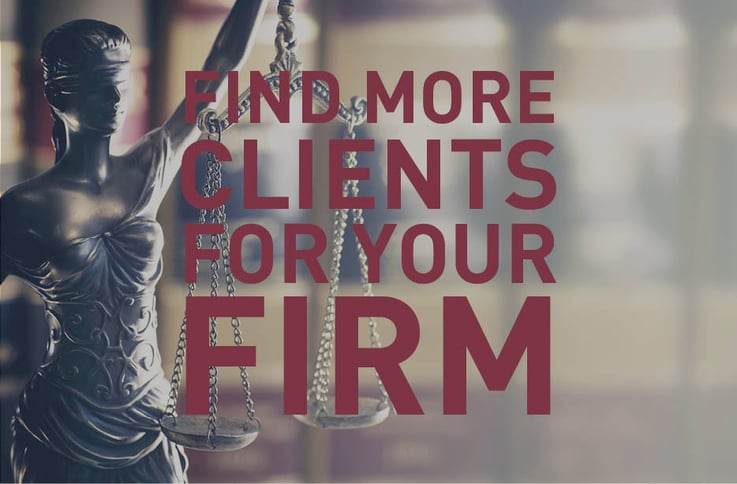 Having worked with solicitors' firms times and times again, we all know how it works. You are super busy one second, and then the next you go quiet and realise you don't have enough work to make up your monthly revenue goal, so you suddenly think, "Quick, we need to do something! Let's sign up for all these networking meetings and call all these people we have last spoken to months ago and see if we catch something along the way".
Not ideal. Besides, what you really want to do is focus on what you are good at, which is working with your clients and delivering the service you promised to them, and be reassured that you always have a healthy, rich pipeline in front of you. Knowing exactly what is coming in the future months and having a strategy in place to make sure there is a constant stream of leads coming in is crucial for a successful firm.However, there are 3 main obstacles in the way of this otherwise ideal plan:
Lack of time
Lack of marketing understanding
Not knowing the right tactics to implement or having a clear strategy
So let's have a look at 11 things you can do to overcome these and ensure you have an effective marketing strategy in place that will get more clients and grow your business.
1. Don't try to be everything to everyone
"If you try and sell everything to everybody, you successfully sell nothing to anybody."

David Finch
Make sure you really segment your marketing and make it very niche.
Too many times we meet solicitors at networking events that do the same old pitch of: "We do family law, litigation, corporate law, property law... blah, blah, blah". But if you pitch yourselves as jacks of all trades, when someone has a specific need for one of these solutions, would they come to you who gave him the impression that you do a bit of this and that, or someone who is an expert in that particular area they need help with?
The good news is that usually law firms are full of niche experts, so all you need to do now is present yourself as one and stick to that. Don't try and cross-sell the whole company's services.
Once someone becomes a client, you can start digging deeper in their pain points and get a better understanding of their needs, and only then introduce them to some of the other solicitors who deal with that specific solution.
2. Focus on real goals
You should have a strategy in place that is goal-oriented for the individual solicitors or areas of expertise in your firm.
You should not be doing marketing just for marketing's sake, trying this tactic and that one in a confused way, just to say you have done something or at the very least that you have tried. You need to have a real focus and a benchmark to compare your efforts against.
Start with defining your target clients' lifetime value for the next 5 years. Then reverse engineer the process, first by identifying how many yearly new clients you would need to gain in order to reach that, and then how many leads you need to generate to achieve that number of clients. Then start thinking about how much and what kind of activity you need to be doing per month in order to get that number of leads. Where are you going to get them from? Can you get enough just by attending networking meetings alone? Or do you need to do more online activity to compensate?
3. Don't treat your website as a brochure
Your website has to be content-driven and its number one goal should be to generate you leads. It shouldn't be treated like a brochure full of stock pictures and a generic description of what you do. Don't just put together a collection of "we do this and we do that" type statements on your homepage, but present solutions to common problems your clients face.
Show you are an expert by establishing yourselves as a thought-leader online, with helpful blog posts, content offers and case studies. Run webinars and initiate discussions on social media. Place yourself in the middle of the conversation and add to it with your insights.
Don't be afraid to share your knowledge publicly, as there is nothing to lose. Yes, you are giving away free advice, but if they then want to act on it, they will still need to hire you, and actually in the meantime that free advice has helped you win that new client that you might have not otherwise gotten.
Make sure you are active online and you present yourself as helpful and knowledgeable partners you want to turn to when in need.
And, very importantly, use calls-to-action wisely. Every page should have a clear direction of exactly what you want the visitor to do next. Get in touch? Download a content offer? Schedule a free consultation with you? Be clear and include a link to facilitate the conversion.
4. Get more work out of your current clients
The low-hanging fruit will always be the ripest, so make sure you cultivate that. We've covered this thoroughly in another article on how to keep your clients satisfied and turn them into promoters, but here are a few key points that I think are especially relevant for law firms:
Value their feedback, and remember that they won't give it to you unless you ask for it. Make giving you feedback or filling in a survey an integral part of the process and make them feel like their opinion is important.
Make sure you create a personal relationship with them, exceeding their expectations.
As you get to know them better, try and uncover their main pain points and identify new opportunities to help them in other ways.
5. Focus on inbound marketing
Try shifting your efforts from being mainly outboundy to inbound (and if you are not sure what inbound marketing is, read this article). In fact, inbound marketing generates 3x more leads than traditional marketing and it costs 62% less per lead.
It's not a magic trigger that will catapult you in no time into success, and it still does take time, but it's a solid long-term strategy that will guarantee you always have a healthy pipeline in front of you and will help you achieve that ideal scenario depicted in the intro of this blog post. It attracts prospects to you, rather than you having to go to them.
How to get started?
Start a blog giving targeted advice
Put together some content offers, like a state of the industry report, a white paper or run a webinar.
Nurture the contacts you will generate through these content offers by sending them a series of relevant emails that are relevant to their specific interests.
Make sure you focus your campaigns around the different areas of expertise and targeted at different buyer personas, don't just create a generalised one that would cater to all. Remember what we said at the beginning, niche is everything.
Download our free guide with all your need to know about inbound marketing! It contains tips on how to plan it, execute it and analyse it to ensure you do it right.
6. Be more selective with the leads
Get them to qualify themselves in or out. Yes, you heard me right. Make THEM decide whether they are a good fit or not, and after that you can qualify them further if needed.
You can do that by sending them relevant content and encouraging them to give you a call rather that you forcing that onto them. Ask for permission to do things, don't be a pushy sales person. If they unsubscribe from your emails or don't react to your prompts, then they might not be a good fit for you. And if you end up losing the lead, it means that they were never going to buy from you anyway.
Don't waste your time going after the wrong leads who will never purchase from you or are not the type of client you want to work with. Your time is more valuable than that.
7. Measure everything
"Don't waste any money on marketing that is not measurable. If you can't measure it, don't do it."
It's a rule that we at Purple Frog have that you should never spend more than 1/3 of your income on winning new business. That's because if you get a 3 times return, you know that your marketing strategy is working.
But how can you make sure that you are doing that if you have no way to measure it?
Track all your results for each marketing activity you do to really understand what is working and what isn't, and continue adjusting your strategy based on the results. Use your goals to benchmark yourself and make sure you are on track to reach your 5-year target.
If you are not sure how much you are spending right now on acquiring new clients, download our free client Acquisition Cost Calculator tool and find out.
8. Cultivate referrals
Most good business comes from referrals and these are a fundamental part of marketing for solicitors in order to get more clients. The reason for this is that your referees' leads are usually already qualified, as they would generally trust the advice they were given and they have a specific pain point that you can help them with.
Here are two ways you can make sure you get more referrals:
Partner up. Find partners in businesses and individuals who usually deal with your clients and prospects before you come into the picture, like estate agents, marriage consultants, business coaches, etc.
Ask your clients. You all know the saying "if you don't ask you don't get" and this is particularly true when it comes to referrals. Don't be afraid to ask for business. If you have created a grea relationship with your clients and they are satisfied with your service, they will happily refer you to someone else you could help.
9. Be where your prospects are
You want to be part of the same groups and the same conversations. Some examples can be LinkedIn groups, trade shows, trade events and trade associations (their trade, not yours!), networking groups that are relevant to them, etc.
10. Be consistent
Like I said in the introduction, don't forget about doing your own marketing and then suddenly panic when you have a quieter period.
If you have a strategy in place, stick to it, even when you are super busy and you think you don't need it, because the next time that it gets quiet, you will regret it.
If you realise you need help or you don't have time to look after your clients as well as find new prospects, find a way to share the responsibilities with another colleague or hire an external experienced partner to help you.
11. Establish trust through reviews
People trust other people's advice, and reviews are the best way to show them what your clients think of you.
In order to get more of them, motivate your partners to actively ask for them (e.g. set up a special rewards system,giving away a prize like extra holidays or vouchers if they reach five 5-stars reviews by a certain date).
There are plenty of review websites for solicitors out there, so you just need to find which ones your target buyers use the most. Put them also inside your website in a prominent position to convince people who land directly on your website from all the inbound activity you will be doing to buy from you (see point 5).
Conclusion
These 11 tips are in no particular order as the order you should follow or what you should prioritise heavily depends on what you are already doing or have done in the past, and who your buyer personas are. Who you target can vary quite significantly from law firm to law firm, so there is no "one-size-fits-all". You need to find your own strategy centred around your own buyer personas and goals.