5 Content Formats Your Audience Wants More Of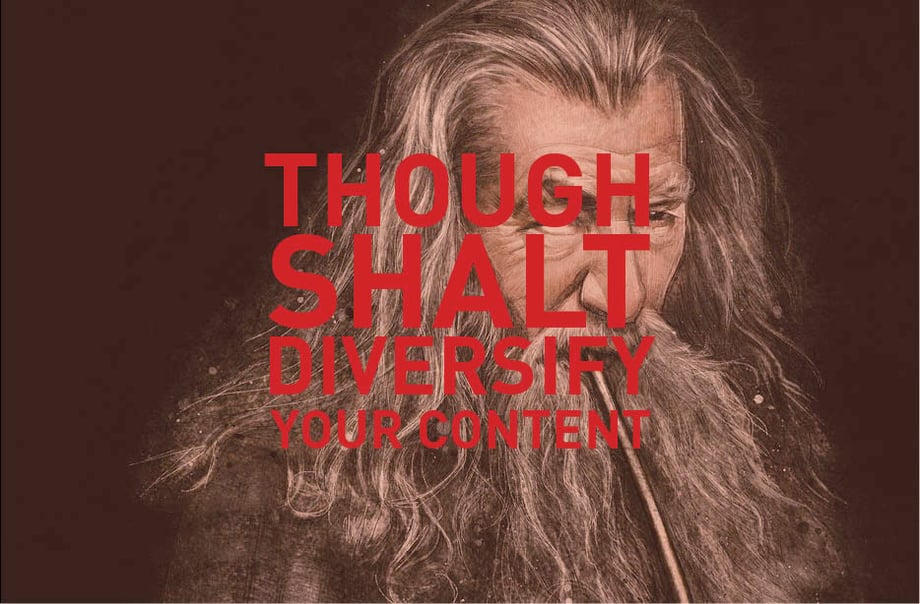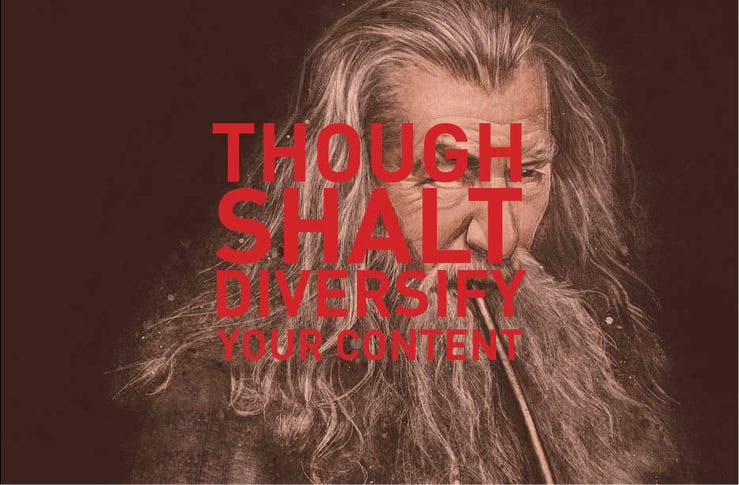 According to the State of Inbound 2016 report, above all else, marketers' priorities today are to convert more of their contacts or leads into customers. To do this, their main stratetegy is to grow their organic presence and writing blog posts.
However, marketers' content priorities don't align with what customers want to consume. People are most likely to skim blog posts and longform business content, whereas they pay more attention to videos, social posts, and news articles.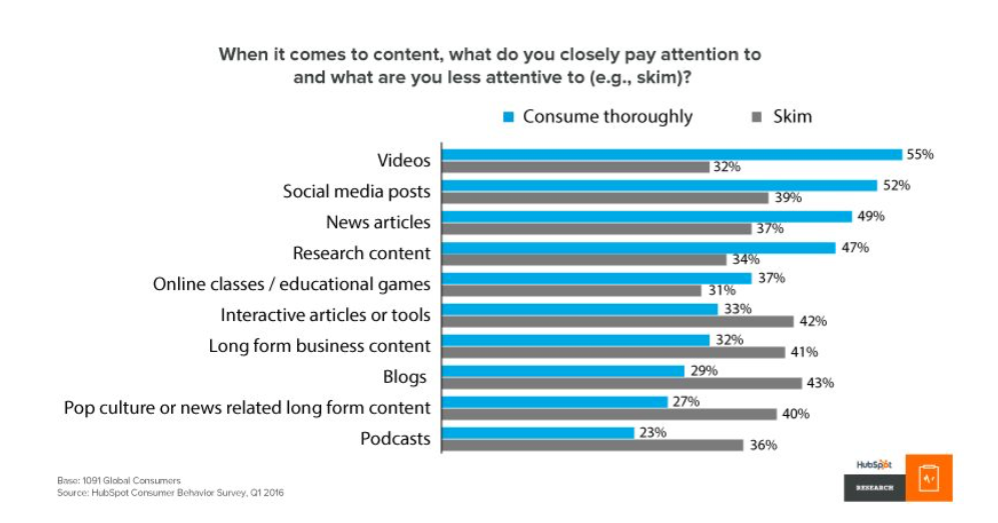 You should therefore invest resources into diversifying your content with multimedia creators and make sure that blog posts are easily digestible to reflect skimming habits. Let's have a closer look at the top content types users want to see more of in the future.
Social media posts
Consumers are increasingly turning to social media, messaging apps, and bots for content via their mobile, and in the State of Inbound 2016, 45% of users reported that they want to see more social media posts.
Marketers have already started acting on this, and as a result of it social content consumption has increased compared to 2 years ago:
57% increase on Facebook - (HS Research)
25% increase on Twitter - (HS Research)
21% increase on LinkedIn - (HS Research)
Facebook is increasingly being used also for business, with 73% of people declaring they are using it in that way. LinkedIn is still in the lead though, with 80% of people using it specifically for business.
News articles
If social media is the content of choice for those who access information predominantly from their mobile, news articles is the preferred one for those who access content on a computer or laptop. In fact, 44% of people say that in the future they would like to see more news articles.
But news articles are predominantly seen as the domain of journalists, not businesses, so how can a marketer take advantage of this?
Include some news stories in your blog posts calendar. For example, share a recent success story in your industry, or report the news about the fall of a particular company.
Also, start sharing more industry-specific news articles through your social media to grow your foothold on these platforms.
Videos
43% of people surveyed want to see more video content from marketers. People are already consuming a high volume of this content every day and the numbers are only set to increase:
Facebook users watch 8 billion videos a day - (The Verge)
Snapchat users watch 10 billion videos per day - (Bloomberg)
45% watch more than an hour of Facebook or YouTube videos a week - (HS Research)
49% of 18-24 year olds watch at least 3 hours of video on YouTube a week - (HS Research)
Marketers, again, are being quick on jumping on the bandwagon, with 48% of them planning to add YouTube to their marketing efforts over the next 12 months. Therefore you should be quick at acting on this if you don't want to get left behind or before your competition gets an edge over you.
Online classes/Educational games
People want to be educated, not sold to, so it's no surprise that 33% of people want to see more online classes and educational games available.
This also works really well in your favour, as by educating people and generating awareness about a specific problem, you can present yourself as the solution to their pain points. Creating this type of content can also help you generate more leads from your website.
Interactive articles or tools
Interactive content is becoming stronger and stronger and 31% of surveyed people reported that they want to see more of it.
As Snapapp states, interactive content comes in many shapes and sizes, but they all start from a small number of core content types.
Assessments - Through a series of questions, users are bucketed into one of several categories. The classic Cosmo Quiz setup.
Calculators - Answer options are plugged into a back-end set of calculations that spit out a unique, numeric result for the user.
Trivia - The "pub quiz" style, trivia includes questions with right and wrong answers with a scored output.
Polls/Surveys - Method of gathering feedback, opinions, and valuable insight from your users – usually in the form of a questionnaire with no right or wrong answers.
Brackets - A round-by-round "knockout tournament" format set up to determine a winner – whether it's "Most Annoying Social Media Behavior" or "Best Holiday Movie." Think "March Madness."
Conclusion
To remain relevant, marketers should strive for format diversification and a decentralized content strategy. Today, marketers' content strategy should extend beyond their own blogs and website, and include publishing through external outlets in order to reach users the way they want to be reached.