What is content marketing?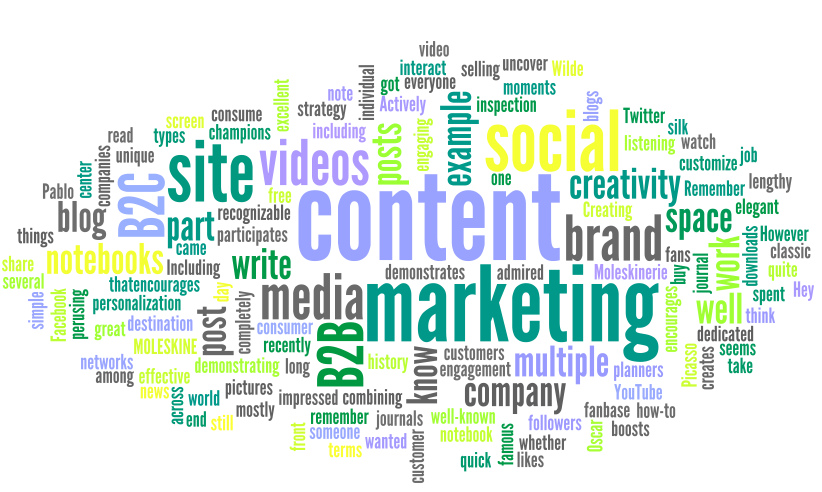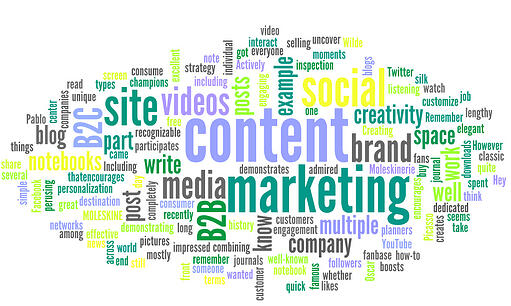 "Traditional marketing and advertising is telling the world you're a rock star. Content Marketing is showing the world that you are one." This is what Robert Rose, chief strategy officer at CMI and author, says, and we definitely agree with him. If today you are not doing content marketing (or don't even know what content marketing is), then you are missing out on an amazing opportunity of making money and standing out from your competition.
As the the famous marketer Joe Pulizzi describes it:

We believe that the true beauty of content marketing is that it's freely available to anyone. It's a powerful tool that is there, right at your fingertips, ready to be used by anyone who wants to try it out. It doesn't need a marketing budget, and it doesn't need specialised skills. All it needs is some great ideas and someone who is willing to experiment with it and see their business and income grow as a result.
Content marketing is not about giving away lots of free information for no purpose at all, but it's a way to generate income for your business at no cost, if done right. According to Bruce Rogers, Chief Insight Officer at Forbes, "the aim [of content marketing] is to retain existing clients including doing more business with them and to attract new high-quality clients." If this is true (and it is!) you can clearly see that as a result of this your business will inevitably grow, as your current clients will keep coming back for more and recommend you to everyone they know, plus you will also acquire new ones. It almost seems too good to be true, but it really is a win-win situation with nothing to lose.
If you are thinking about starting to integrate content marketing into your business, the first step of your journey into this whole new world is to understand what content marketing is, and then learn how to use it in the best way for your company. There are lots of content marketing ideas you can take inspiration from, as well as lots of examples that can prove that this marketing strategy works in generating leads, which as you probably already know, are crucial for selling products and making money. According to the Business Dictionary, a lead is an "inquiry, referral or other information, obtained through advertisement or other means, that identifies potential customers", and what better way to generate them than by engaging in a marketing campaign that is basically free to run and is available to you instantly?
How does content marketing work?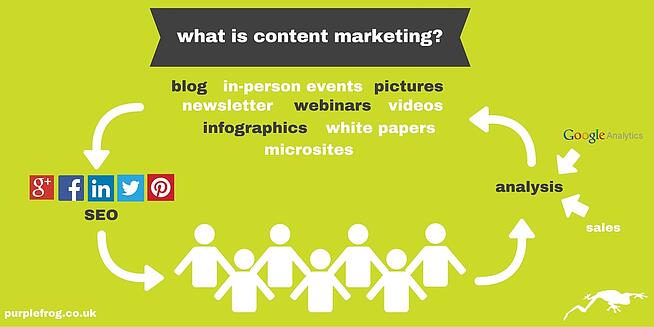 You create the content, which can be of any type: blog, e-books, whitepapers, webinars, videos, presentations, e-courses, podcasts, photos, press releases, etc.
You share the content through any appropriate medium: your website, YouTube, LinkedIN, SoundCloud, Instagram, Facebook, Twitter, etc.
You promote the content so that a large number of people will see it (more of this later on)
You get the feedback and analyse your analytics to see how well your content is doing
You create more content that your readers will enjoy
Seen like this it doesn't sound too daunting, does it? As you can see, there are lots of different types of content and different companies pick and choose only the content that is the most effective to them and which their audience will respond the best to.
According to the statistics, the most used form of content marketing by B2B companies is social media content, followed by newsletters and blogs, with varying degrees of effectiveness and different results for each company. Therefore, it's just a matter of finding which one works best for you and your company.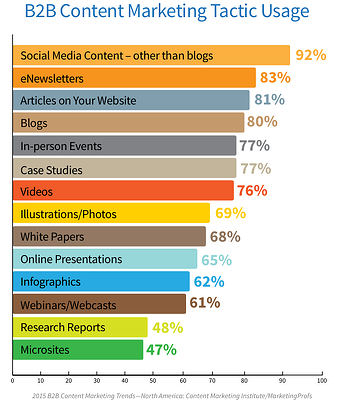 According to the 2015 B2B content marketing report, 64% of businesses found webinars more effective than videos and blogs, but if you start looking at the experiences of each individual company, you see that different sectors and industries have experienced more success from different types of content. Therefore, again, it's all a matter of finding what type of content is the one that will generate YOU more results.
Who is using content marketing?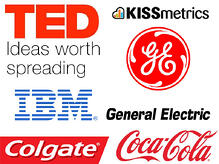 Content marketing is the present and future of marketing, as the Content Marketing Institute points out. Many businesses have seen great potential in it, and have started to use it effectively and successfully, and it's not only the small startups that are taking advantage of it, but big companies too.
Truth is that content marketing today is something that no business can afford to ignore, with the risk of getting behind the competition and losing customers (yes, it's that serious!)
Here we have selected some examples of content marketing done by 3 very different companies to see what they have done and how successful this strategy was for them.
KISSmetrics
KISSmetrics is a company that sells lots of different measurement and optimisation products to marketers. They have a very active blog, with new articles posted every day, and a high number of social shares for each article. Plus, on the sidebar they also have a form to sign up to the newsletter and they run regular free webinars. As you can see, they merge together lots of different types of content and use them all to get people to start using their software, by making them sign up for a free trial or getting them to enter their email address so that they can keep the conversation going and turn that person into a customer. All of their content marketing efforts proved very fruitful right from the start, as their blog reached 12.5 million readers after just 20 months, according to VentureHarbour.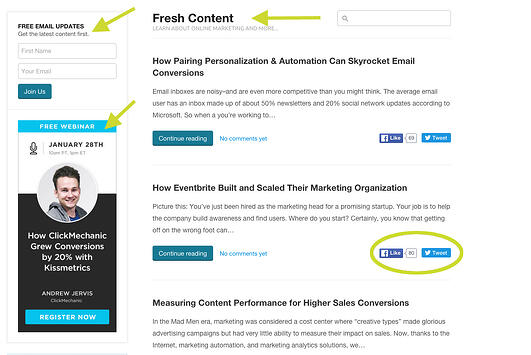 KISSmetrics' co-founder, famous marketer and entrepreneur Neil Patel, said that he started with posting only 2 blog posts a week, but when he increased them to 5 per week, he started to see his traffic grow considerably. They now have just under 30k likes on Facebook and 235k followers on Twitter and they are known to keep experimenting with different content marketing ideas.
General Electrics
General Electrics started in 2008 a blog called GE Reports, which quickly turned into a market-leading magazine. They are master-storytellers, to the point that they call their blog posts stories, and according to Newscreed, the best GE Reports story received more than 1m views! They publish up to 10 stories every week and they do a stunning use of images. In particular they are great at creating and using GIF images.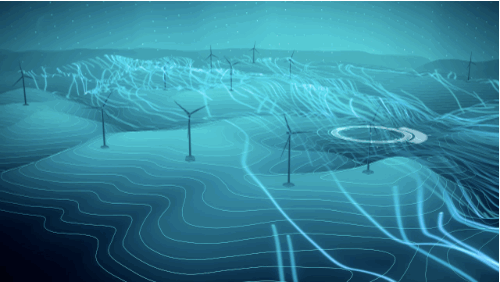 Other than posting stories on their magazine, they also have a tumblr account and a newsletter, which make it very easy for people to get updates from them and for GE to make sure all of their posts reach all the people who are interested in them.
They are not only brilliant with the content they post on their magazine, but they also have a YouTube channel where they post lots of fun videos about science (like the Emoji Science series), talks from conferences, videos from their own factory, masterclasses on how things work, and a lot more. This mix of truly interesting and innovative content, has made it so that their YouTube channel now has 79k subscribers.
IBM
IBM is one of those large companies who have decided to spend a lot of money to create lots of diverse content on different platforms. They use educational, informative and gamified content and distribute it anywhere they can. For instance, they have a very vast library of case studies, they have a blog where they post all of their scientific and technologic research, they have a secondary news blog, they hold webinars, and they even launched a game, IBM CityOne, in which the users have to solve the city's pressing problems with technology.
Yes, IBM certainly has very deep pockets that not many other companies have, but the key thing that you can take away from them is their deep understanding of their target market. They create content that is highly relevant and interesting for their market, and deliver it in a way that will make them respond to it and engage with the company. As a result of this, their IBM research blog has 75k Facebook likes, 82k followers on Twitter, and their community is extremely engaged with the brand.
Content marketing tips
Like with any big idea, you always need an action plan to make it work. Here are some top tips on how to get started on content marketing and how to develop your own method and strategy.
Define a strategy
According to the 2015 B2B content marketing report, if you want to be more effective at content marketing, document your strategy. 35% of the businesses surveyed said they have a documented content marketing strategy, whereas 48% say they have a content marketing strategy, but it is not documented.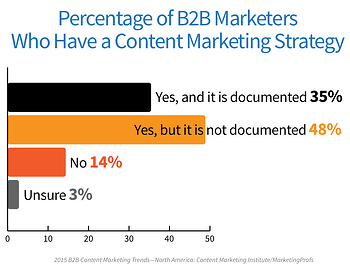 Having a verbal strategy, they say, is a great first step. However, it pays to take the time to write it down: 60% of those who have a documented strategy rate themselves highly in terms of content marketing effectiveness, compared with 32% of those who have a verbal strategy.
Truth is that there is no point at all in just throwing random content left and right, cross your fingers and wait, hoping it will work its magic somehow. Creating a strategy should definitively be at the top of your list if you are considering content marketing right now. And let us put this clear: deciding to have a blog and post some articles in it is not a strategy!
Set your goals in terms of views, shares and conversions. What is it that you want to see at the end of your content marketing experiment? You want to double your website's traffic? Get 1,000 Facebook like? Acquire 500 more subscribers to your newsletter? Write all of these goals down and make sure you keep tracking them.
Identify your customer groups that will be most likely to respond well to your content.
Write an editorial calendar, which is essentially a snapshot of everything you are planning to post every week and month. Ask yourself if it all ties in together, if it's focussed and centred on your customer groups. This won't only help you create better content, but also optimise time and stimulate your creativity.
Keep it flexible. Like anything in marketing, it can all suddenly have to change because a new trend has emerged or you want to experiment with a new technique, so it becomes inevitable to keep revising your strategy.
Make it good
The basic idea of a good content marketing strategy is that the content has to actually be good.
It can prove quite tricky to come up with themes, topics and angles that are fresh and new all the time. So, we have a little task for you. Go and get a notebook (yes, now!) and write down any idea that pops into your mind. The more the merrier. Now it's the time you can really go wild with your imagination in terms of topics, titles and themes; you can think later on how to make it more focussed.
One of the reasons why many companies and entrepreneurs decide not to engage in content marketing is because they are afraid they are not good writers. The secret here is the secret for anything in life: practice makes perfect. Yes, you may not be a confident writer right now, but blogging and creating content is actually easier than you think. The trick is to stick to a colloquial style, imagining you are simply explaining something to one of your clients or peers in an email. Plus, if you really aren't that into writing, there are many other forms of content marketing, as mentioned before. You can decide to start creating video tutorials, infographics, webinars, etc. Find a style and a medium that suits you, and make sure you practise using it a lot.
Another thing to keep in mind is that quantity matters in the world of content marketing, and Our Social Times claims that businesses that blog 20 times a month attract, on average, 5 times more traffic and 4 times more leads than those that blog just 4 times a month. However, quality matters more. A high quality article will generate you traffic for years to come and will raise the profile of your company, because what you ultimately want to do is to show people that you really are the best at what you do. So quality trumps quantity by a mile.
Target it right
We hate to break it to you, but people won't come onto your blog simply to look at how wonderful you are. Before committing their time to reading a long blog post, they will subconsciously ask themselves: what's in it for me? Therefore, when you are creating the content, you should ask yourself the exact same question: what can I give them that will be really valuable to them? Getting to really know your audience and creating content for them should be the focus of your whole strategy.
You don't necessarily need to have only one target audience, though. In fact, 46% of B2B businesses target 2-3 target audiences, and 26% it even goes up to 4 to 6. Therefore, think of all the audiences you could target, and create content that will engage all of them, or separate your content into different channels or categories, so that users will be able to navigate it easily and find what they are looking for.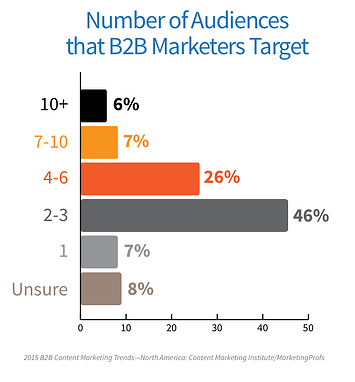 Promote it
What if I put all of this effort into creating great content and then no one reads it? We can see a few of you thinking this right now. This is when social media and SEO enter the game. Promoting your content is just as important as writing it, so you should take time apart after you have posted each post to make sure all the SEO techniques you know are integrated in it and really share it as widely and broadly as possible.
Social media is probably the most common tool for promoting content. As you can see from the graph below, Linkedin is considered the number one social media for B2B, and according to Our Social Times, 94% of business marketers use Linkedin to share their content. It makes sense, as Linkedin is certainly THE social network for the professionals, and if you are selling to other professionals, then you can basically find in here all of your target market. During the past couple of months we have developed a plan of 6 touchpoints on Linkedin, which enabled us to connect with over 35% of the people we originally targeted and create engagement with the articles we posted on there. We are still experimenting with using LinkedIN in different ways, but we can certainly see its potential already and the results we are getting are really satisfying.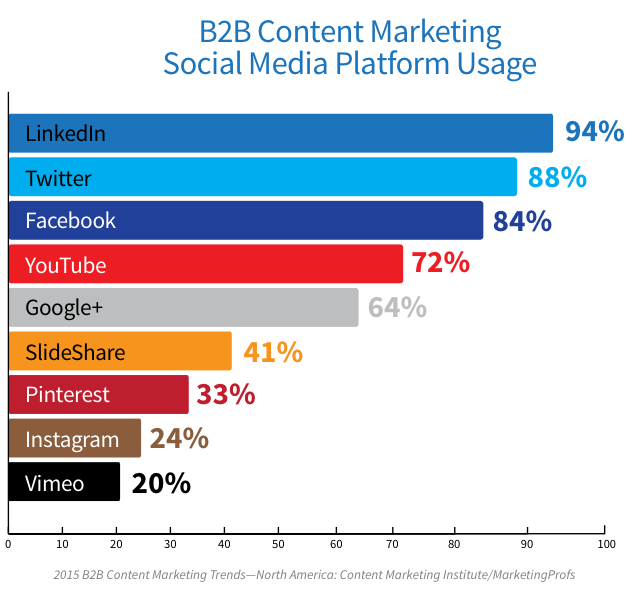 SEO is another crucial element for promoting content, as without it no one will be able to find it if they are coming from any search engine. It's a truly powerful tool, and a skill that might take some time to master, but in our opinion it exposes the content to a much wider audience than social media, as it opens it up not only to your current followers, but also to the rest of the world who is interested in that particular topic you are talking about.
Analyse
How do you know if your content marketing efforts are actually working?
Analysing your content is as important (if not more so) than creating it. Remember that strategy that we told you to create before? Always measure up your initial goals with what the actual results are. But how do you measure the successfulness of your content marketing efforts? As shown in the table below, 63% of B2B companies measure success on the basis on website traffic, and quite a large amount value sales lead quality and high conversion rates.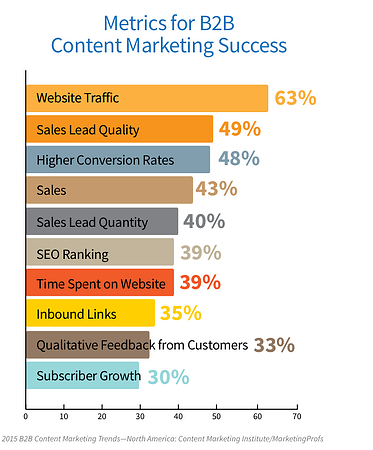 All of this information is easily accessible with the help of any analytics tool (e.g. YouTube analytics, Facebook analytics, etc.), although our favourite must be Google Analytics. We use it all the time to track the response to each blog post we publish, to check we are on the right track in terms of the type of content we produce and how the overall users' experience on our website is. We also use it a lot to identify what type of users come onto our website and tailor our content accordingly. Where do they come from? Who are they? What are they looking for? All of this information then feeds into all of our content planning. For instance, if we notice that a blog post has been particularly successful, then why not create another one that expands on a specific topic inside it? Or why not reuse and repackage that content to create a video, or an infographic, or use it in our of our conferences? The possibilities are endless, but they all start from understanding what your readers want and tracking results.
Give it time
The truth about content marketing is that it will be ultimately very effective for your business, but it won't be an overnight miracle. If you are thinking that if you stick to it for a month and it will change your company, then that's the wrong approach to it. Building an audience and making it loyal to you is an art that requires time, and you will need at least 3 to 6 months of posting regularly on your blog before you will start to see real results, but in the end it will be really worth it.
Conclusions
So, in the end, what is content marketing?
It's something that cannot be ignored anymore if you really want to bring your marketing into the 21st century and be ahead of your competition.
The real key of content marketing is ultimately to find the kind of content you want to publish and that will resonate the best with your audience, define a strategy, and keep refining it and perfecting it by analysing the results and integrating the feedback you receive.
In this way, you will soon start seeing results in your traffic and you will start generating leads, which will ultimately convert into more sales and income for your company!