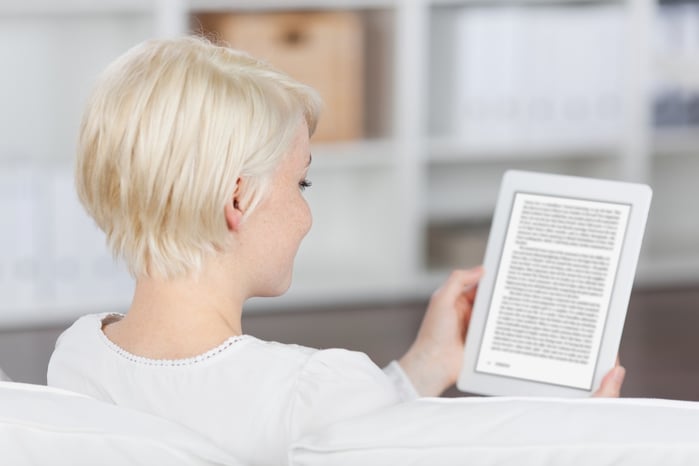 Have you ever thought about writing an eBook for your business to offer to people either for free in exchange for their email address or for a fee? Of course you have, admit it! The whole thing is already visualized in your head from the front cover design, to the section titles. Content offers like ebooks, white papers and guides are a great way of stepping up your inbound marketing game.
Having just fished writing my first eBook content offer, I learned first-hand that it's not as easy as you think (but not impossible). It's an open door for countless silly mistakes so you need to stay aware, and proof read again and again. If you have ever thought about writing a content offer like an ebook for your company, or plan on it, you'll definitely want to read this post to prepare yourself.
1. Choosing a topic you're not interested in or know little about
If you want to create an eBook that people will genuinely want to read, you need to pick a topic you're passionate about or are interested in. Your excited spirit will translate into your writing and in turn will make your readers stay engaged. Also, when creating a content offer you need to entice readers, they will be giving up their personal contact details to obtain your eBook so you need to make sure it's worth it or else not many people will download. If you know very little about your chosen topic there's no way to avoid the massive amount of research you're going to have to do. In my case I wanted to learn about the topic, so it was a great opportunity to learn about it in depth. PowerBlogger agrees that you should be passionate about your topic, "If you have to do a lot of research, you're more likely to carry it out when you're passionate about the subject than if it's something that you don't care about."
2. Not writing the eBook your audience needs
When you're writing your content offer, you need to make sure that you know who it's targeted to because you're basically using your eBook as a bribe to get their details. You need to know exactly who your targeted audience is to be able to make sure the content is tailored to them. SkillsYouNeed claims that "Knowing or anticipating who will be reading what you have written is key to effective writing." Give them what they really need!
3. Picking up a pen, (or your laptop) and starting to write straight away
It is super important that you plan and research, as mentioned before. You need to create a 'blue print' or 'skeleton', that way when you start to write you will stay organised and move along swiftly finishing up with a pre-planned essay to simply fill out the blanks. The more details you plan out the easier it will be for you start which is an area I know I struggled with.
4. Only writing when you feel like it
Don't do it! Writing an eBook can feel like a long drawn out process after a while, make sure you have a writing schedule in place! Laziness and procrastination are my two biggest weaknesses, making a schedule will help you out big time. Some of the biggest benefits of a schedule include chunking up your work which can make it feel a lot lighter, segmenting different sections to stay focused on a specific part each time you work towards the end goal.
5. Quitting when it gets too hard (it gets easier!)
If you stick with my suggestions you wont want to... as much. Unless you're someone who absolutely loves to write and doesn't mind it much, it can get a bit boring at times since you're working on one project for such a long time. Whatever you do don't quit, it's not worth it, just power through and give it your all. When you're finished you will feel so accomplished, and your readers will really appreciate the help. Click here for some motivational quotes to help you along!
6. Letting your inner perfectionist and procrastinator surface
You have to be realistic, you eBook needs to be good but don't procrastinate by going over something a million times because you want to be a perfectionist. Necessary correction is essential, but perfection isn't always necessary and it can actually hold you back.
7. Telling yourself you don't need an editor
Believe me when I say you will need an editor. I'm the type of person who can re-read my work 10 times and still miss out on an error, having someone look at your work from a different perspective will let them identify awkward wording or spelling errors that you didn't realise were there.
8. Hiring a useless proofreader
Your mum might be proud of your work but trust me, don't make her your proofreader (I made that mistake). If you're unable to hire a professional make sure you use multiple proof readers, some may catch mistakes or awkward wordings that others didn't notice. You never want to publish anything with mistakes in it, it will make you look like an amateur and people won't trust that your work is credible.
9. Taking the design of your front cover lightly
Remember, this needs to look awesome because it's the first that people will see of your eBook and it needs to make a good first impression. Be sure to choose something with large legible text, bright colours (but not too many, stick to 2 or 3). Make sure it looks put together and professional, you want to look like you're a pro not an amateur.
Conclusion
When it comes to eBooks, you cant rush! It's a long process to which you must devote ample time and organisation to. Make sure you are well prepared and ready to devote a lot of time and effort to this work of art!
Ready. Set. Research!