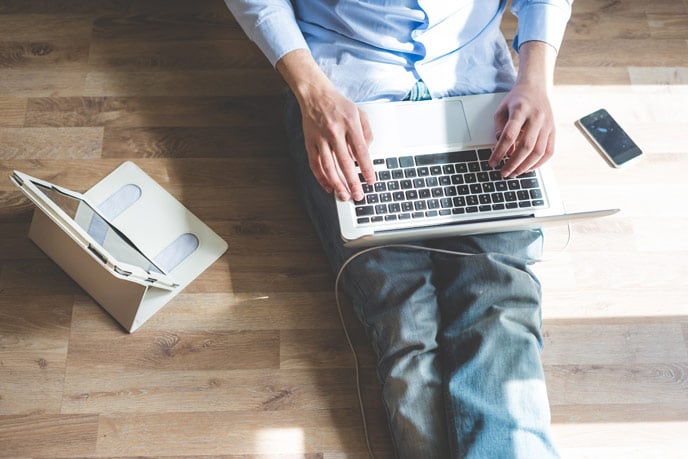 Are you getting the most out of your website? Are you missing out on leads and traffic that could potentially get you more clients? STOP MISSING OUT, follow these tips to audit your website and gain the traffic you deserve!
Is Your Content Optimised For Lead Generation or Conversions?
According to login radius's marketing blog, CTA's are one of the most important parts of your whole website so make sure you do it right! When creating a CTA one must consider the following four factors:
- Text – Is the wording clear and concise? Does it communicate value? Is the font legible?
- Location - Is it placed above the fold? Is it relevant?
- Size – Is it easy to find without being a distraction? Is it sized appropriately for mobile?
- Colour – Does it stand out? Have you tested which colours get you the best click rate?
Don't forget to test all these aspects individually to see which get you the highest amount of clicks. Don't be afraid to experiment, it will give you the key information that you need to get you on your way to more new customers!
Did you know?
- Hubspot wrote about a company in one of their blog posts saying that they increased their conversions 105.9% by having a clear call-to-action that leads to a whitepaper.
- You have 0-8 seconds to make a compelling headline and landing page. After 8 seconds, the majority of visitors leave if you don't find a way to capture their attention.
- The more landing pages you have, the more leads you are likely to get. You can find some landing page inspiration here!
- Product videos can increase purchases of the product by 144%.
- A 1 second delay in your site speed can result in a 7% reduction in conversions.
- A/B testing is becoming the preferred method that has brought a lot of the companies the most success.
Is Your Website Search Engine Optimised?
First off keywords, you can use tools such as Google Analytics to see how your current key words are performing how many people each of them are attracting. If you don't have keywords yet you can use tools like this one to help you choose them or this one to give you an idea of how many times per moth this keyword is searched for and if there is a low, medium, or high competitiveness. Update them if need be and experiment to find which key words work best for you. Once you've selected your keywords, make sure you have included it in your:
- URL
- Page title
- Image alt-text
- In text
Links are also a fundamental part of SEO, due to the fact that they will increase traffic, and credibility depending on who links to your site and which sites you link to. You can also use inbound links where you link to another part of your site increasing a users internal interaction with your site. The off-page optimisation for your website is also critical to boosting your Search Engine ranking. Web reference's from quality websites are seen as validation for your website in the eyes of Google and they will rate your page being linked to or referenced more positively. For more information on SEO see this article.
Are You Creating High Quality Content?
The importance of remarkable content is really stressed here. If you don't have what people are looking for, they will keep looking. In other words, you will miss out on potential leads, conversions and ultimately miss out on customers. Your content needs to not only be educational but it needs to stand out and have an easy to read format. This includes color, font and layout. Forbes describes high quality content as "what savvy marketers strive for, and what Google and people look for. It's what separates the winners from the losers online" In order to be a 'winner' you need to follow checklist the list below:
- Content must be the appropriate length and coherent.
- You must supplement with images, video embeds, infographics and so on.
- You must use proper grammar and spelling.
- Make sure you're using proper page and text formatting.
In addition to the list above you need to make sure that your content is unique, find something to make it stand out from the crowd. Orange county SEO says "Google wants to see three particular aspects of content – quality, uniqueness and relevance."
Is it Optimised To Be User Friendly?
Is your site user friendly? Remember, you want your user to find what they need and to do that they need to know how to use your site as we learnt that. We don't want them to go elsewhere, so make your site as easy to use as possible. Use Google analytics to see how most people are accessing your site and how it corresponds with how much time they spend on it. In a recent inbound campaign plan I created I noticed that more than half of the people on the site were using their phones, and people on their phones also spent the least amount of time on the company's site due to the fact that it wasn't really well optimised for mobiles, so keep your eyes peeled for any patterns like this.
Conclusion
All of the aspects above are integral if you want more people to visit your site and ultimately go through the buyer cycle process with ease. Follow these top tips and you will gain not only credibility, but you will gain traffic and leads... Thank me later!