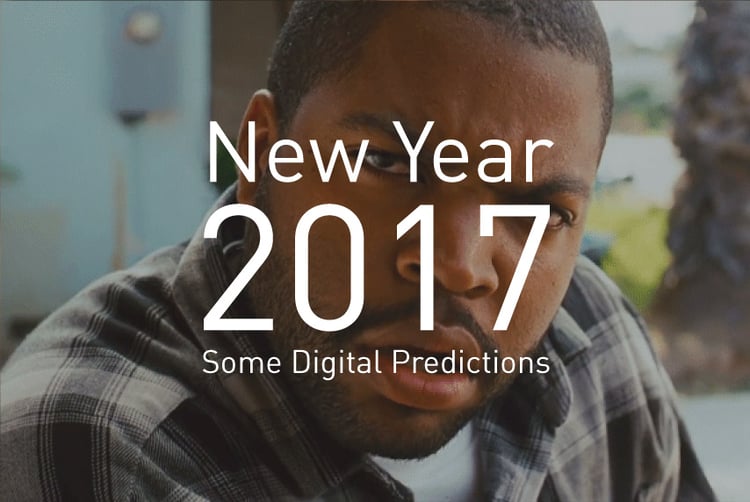 For better or worse, 2016 is coming to an end and we will all soon head away from our desks to gorge ourselves on Turkish Delight, Goose (I can't bare turkey), and red wine during the festive period.
But before we all delve into cheese boards and mince pies, we should ponder on the landscape which awaits upon our return: what exactly does 2017 hold for the Digital marketers and the industry as a whole?
Having grabbed a few sound-bites from our team before they jetted off, here are just some of our thoughts on what 2017 may have to offer:
The Internet of Things
"The idea of saving time by automating tasks is the fundamental reason why IFTTT (IF This, Then That) has become highly regarded as an essential tool to increase productivity and give an edge over the competition.
In 2017, its use in Digital Marketing, where a trigger in one location causes an action elsewhere could seriously ramp up the effectiveness and momentum of marketing campaigns."
Marcus Marsh, Head of Digital
The internet of things (IoT) is the growing network of physical objects that can connect to the internet. If you've ever worn a Fitbit, asked Alexa for the weather, adjusted the temperature from your phone, or done a thousand other everyday actions — you've interacted with the internet of things.
Experts predict that by 2020, there will be 50 billion connected devices in the world. That's about six devices for every single person on the planet: of those 50 billion, IFTTT hope that a majority will be connected to them.
Businesses with a taste for the future should be looking to grab this as soon as they can as the scope will undoubtably be huge.
Credit: [https://ifttt.com/blog/2016/06/the-internet-of-things-on-ifttt]
P.S. The best example of the interaction (or recipe) of IFTTT and IoT is FitBit and WeMo Coffeemaker. When your FitBit detects you've woken up, your WeMo will start brewing your coffee. Sci-fi stuff.
Mobile-first
"We have finally reached it; after threatening to do so for some time, more people now access the internet on mobile devices than desktop.
This could be the biggest thing that Google has released since Mobilegeddon and all aspects of web development will have to adapt to this, frankly, seismic change; its impact will be felt across the Digital Marketing spectrum."
Alex Thomson, Digital Project Manager
As Google announced in November, they are now running trials that index (and rank) sites based on their performance and content for mobile, first. Although Google's SERPs will still rely on one central database for all devices, this move signals that Google is now recognising the fact that people search more on their mobiles and therefore the content they visit should be as good (if not better) on mobile than desktop.
Sites with poor performance on mobile will undoubtedly see their rankings slide. But it isn't like they haven't had enough warning! To read more have a gander at Google's Webmasters Blog.
Flexbox
"

Although not brand new, Flexbox should really hit the mainstream in 2017. This CSS layout module takes a lot of the pain out of making exciting website layouts that look great on the biggest and smallest screens."
Jon Crowe, Front-end Web Developer
The Flexbox Layout module aims at providing a more efficient way to lay out, align and distribute space among items in a container, even when their size is unknown and / or dynamic (thus the word "flex").

The main idea behind the flex layout is to give the container the ability to alter its items' width / height / order to best fill the available space; this is particuarly useful for mobile devices. A flex container expands items to fill available free space, or shrinks them to prevent overflow!
Credit: [https://css-tricks.com/snippets/css/a-guide-to-flexbox/]
VR
"The age of VR is truly upon us. With devices now being built with this specific feature in mind, brands and businesses must start considering this media when thinking about their long term marketing strategies. As with any new technology, this presents an opportunity for those companies willing to take it!"
Alex, DPM
Virtual reality headsets have long been the playthings of the avid gamers and those who could afford them. However, as prices come down and large businesses like Google and Samsung make VR part of the core USP for their latest mobile products, this is a media that will not be going away.
Brands and businesses must be ready to embrace this technology as in 3-5 years - or possibly sooner - using VR as part of a core market strategy will be the norm!
Conclusions
If 2016 is anything to go by, 2017 will not be a year to be truffled with; the onslaught of technological advances is going in a direction that nobody would have predicted five years ago.
Google's increasing influence in everything related to Digital Marketing will continue to grow as we look to an on-line world that simply gets faster and more accessible on mobile devices.
2017 will be a watershed moment for the direction of the internet, as the Internet of Things amongst a host of other technologies grow even stronger. The opportunities available to businesses and marketers has never been so large; grab them before someone else does!
From all within Purple Frog Digital, we wish you all a Merry Christmas and fantastic 2017!