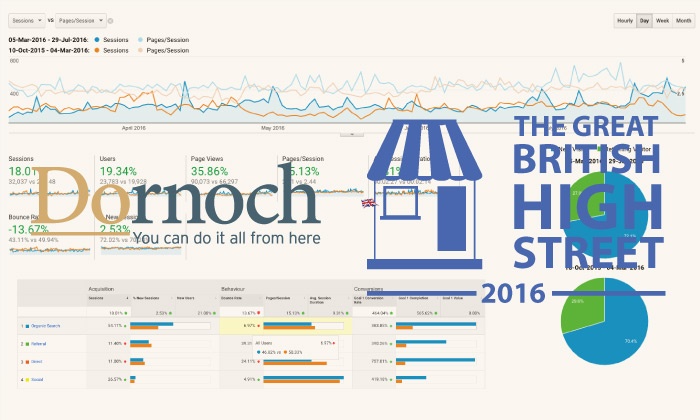 "Our small town packs a big punch!"
Joan Bishop, Chair of DACIC
This is how the Chairwoman of the Dornoch Area Community Interest Company described the inclusion of this small Scottish town in the national 'Great British High Street Awards'.
With a focused and community approach to their self-defined task, Dornoch's local businesses and wider community have come together with the sole aim to "encourage longer stays in Dornoch, especially out of season, by promoting events and activities".
In a three year project that has utilised all that Dornoch has to offer, this nomination and potential £100,000 funding prize, caps what has been a true story of growth!
Alongside guidance and input from Purple Frog Digital (PFD), Dornoch have optimised their social media and website to ensure that all campaigns reach their maximum audience and correctly direct traffic throughout the site.
There have been a number of optimisation and strategic inputs from PFD. This has been seen particularly over the last 20 months, where after completion of the new website, our marketing efforts where focused on improving the user experience offered up by the site and optimising visibility within Google result pages (SERPs).
As The Great British High Street Awards mentioned in their analysis of Dornoch, "Dornoch has seen visitor numbers soar by 20%". This is in part due to the success of multiple branding, development and visibility campaigns run by the Creative and Digital teams at Purple Frog.
UX enhancements
As our blog on UX (or User Experience) suggests, delivering a great 'User Experience is not a differentiator anymore; it's a necessity'!
With this in mind - and focusing on Dornoch's aim for bodies-in-beds (during the off-season) - we set about making vast improvements to the Stay a While section of the site.
By introducing individual pages for each property, we improved navigation and filtering for end-users which had a secondary benefit around Search Engine Optimisation. An increase in pages meant Google had more to index, more content to crawl and a clear site hierarchy to follow.
The individual pages also enjoyed separate URLs meaning external and internal links could be built up on a much larger scale. The increase in traffic and metrics in this section speak for themselves.

The increase in engagement with the section, was aided by the introduction of an icon filter solution.
Used in the correct way, a simplistic iconised system can be deployed to excellent effect to quickly allow users to see which (in this case) properties had requirements that applied to them. Whether this be wifi, disabled access, sleeping layout or those that where dog appropriate.
Applied to each item and displayed on both the category and property page, this excellent solution slip-streamed users ability to understand exactly what B&B, hotel or self-catering accommodation had to offer!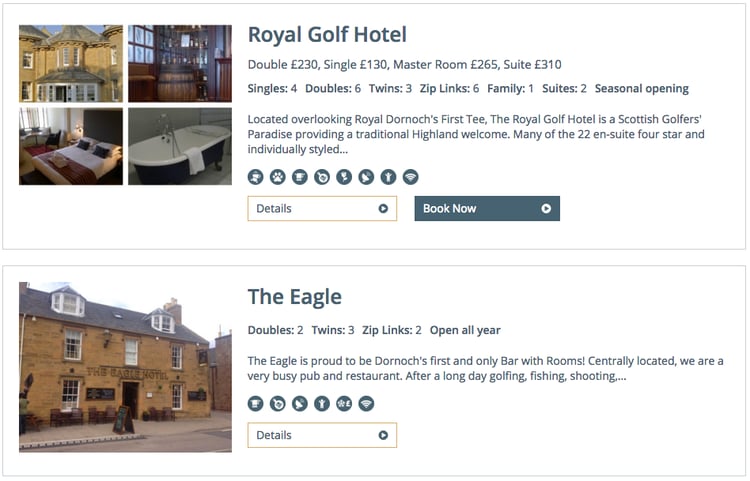 SEO & Video Campaigns
Search Engine Optimisation and improved User Experience go hand-in-hand and have to work together in order to produce a successful website.
By running aggressive SEO and Video SEO campaigns, we have ensured Dornoch now has long-lasting visibility on Google which will continue to direct users to the correct landing pages where the implemented site structure will funnel users effectively.
Year-on-year, Dornoch's website traffic (sessions) has risen +25%; Bounce Rate has dropped from 51% to 46%; and has seen a Session Duration increase of nearly half a minute. As for Organic Acquisition, an increase of +50% is an excellent ROI.
Dornoch now enjoys 43,000 Impressions monthly; a Click-Through Rate of 6%; and over 450 words that appear on the first page! 82 of which are ranked position 1 and 2.
Our efforts have been boosted with some excellent and hard fought pushing from Dornoch's Social media. Excellent use of Content Strategies, Timelines and Production have seen Social Acquisition explode by +270%.

This blogger has noted the importance and power of Video SEO before, with "78% of people watch(ing) videos online every week, and by 2017 (we) believe that video will take up 69% of consumer internet traffic."
Using this methodology, a Digital-Creative joint effort has seen a group of SEO-charged video's reach some 25,000 people in 18 months! The backlinks and conversations these have generated, has created invaluable backlinks and hooks into the VisitDornoch site.
Conclusions
This blog has always tried to emphasise the importance of the quality of users over the quantity.
Dornoch's increase in physical visitors to their town stresses the power of effective, user-focused Digital marketing whereby the correct tools and methods can truly connect highly targeted searchers with the right product and service.
When it comes to Digital - and indeed - any sort of marketing, user-focused, innovative and inspirational solutions will always succeed in driving small businesses and international brands towards sustainable income business growth.