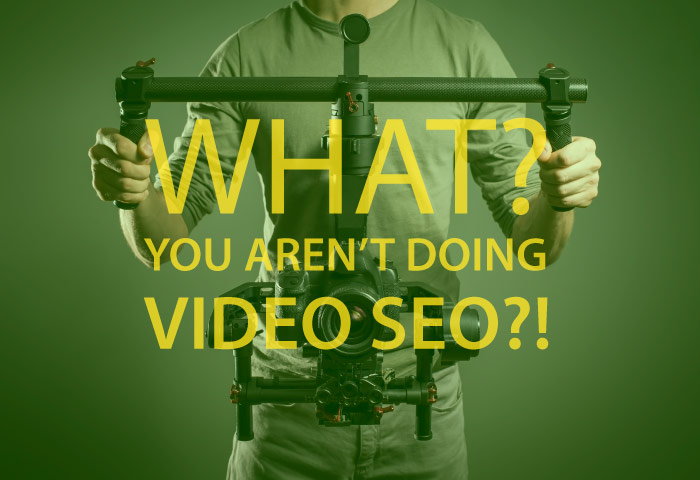 Yes, yes, yes I know we've done something on Video SEO before but that was focused on the why you should be doing it, not the how!
This, is the how!
Oh, you haven't read the first blog? Well go here and you can catch up with everybody else... All caught up? Good.
As mentioned previously (we established!), we understand the importance and power of Video Search Engine Optimisation in terms of its relation to your Digital Marketing strategy.
But how do we actually go about implementing it on a very basic level? How do we optimise all those meta tags, descriptions etc.? How do we do all of this so that when we come to the hard grind of off-page activity, the on page is a perfectly optimised cushion for visitors and Google's crawlers...?
(If you're struggling with some terminology I suggest you take a look at our Ultimate Guide to SEO or What is SEO blogs...they're great!)
Video purpose?
John F. Kennedy said, "Efforts are not enough without purpose."
This applies (admittedly slightly dubiously) to Video SEO and what you will be looking to achieve with this powerful content.
The most important thing is to establish what you are looking to achieve with your videos. As with all your content, it must be engaging and answer key queries that your potential customers may have.
It is also crucial to look into what you competitors are and, more importantly, aren't doing.
Essentially, what are your customers looking for in your product or service online that is different to what other people may be doing or offering?
Answering this question early on will give you steer for everything that follows, including keyword research and whether Google will rank video's for those particular search terms.
Once your research is done, and your content is created, you're good to go!
PF best practice: Video SEO
So here we go. The reason we are all here:
Before uploading – include keyword in the file name.


The title of video should have the main keyword in it. Choose one or two words per video. Optimise each video around this keyword.


Video description should be 300-500 words ideally.


a.

Use keyword and URL (link) in first 3 sentences.


b.

Use keyword variations in body of text.


c.

Include links to other pages/social media in body of article.


d.

Good call to action at the end of description as well.


Tags: use keywords as tags and your brand name.


Use custom thumbnail that stands out. Optimise video file and the thumbnail.


For best results, stream video as though it were a live video.


If video has voiceover, have it transcribed and upload as Closed Captions part.


Once video is live, you will want to get some early engagement to boost rankings.


a.

Send email notification to you list about video.


b.

Post video to your social media profiles, or the link to it.


c.

Syndicate video to other social media accounts.


d.

Encourage people to like, comment & share your video.


Use annotations, cards and strong calls to action.
Ranking in Google, particularly on page 1 or 2, will depend on competition, whether Google wants to show videos, and how much you can embed your video on other web properties and the link building that you do behind that.
Some other PF top tips...
If you are producing content regularly, then we would advise:
First, make sure your YouTube channel is optimised. Point as many high quality links at your page and videos as possible and ensure you have all the correct on-page SEO for your page.


Upload videos on a regular basis. YouTube likes to see this and it will help build authority of the channel.


Build playlists and add appropiate videos to them.


Build links and promote your channel and playlists. Not just on individual videos but across everything!

Conclusions
So there you have it. Our thoughts and industry best practice regarding Video SEO; the power the video and this type of content has, when done correctly, is immense.
This is particular useful for e-Commerce sites that have easily categorised products and can create small, snackable content around products!
The first 48 hours is the most important when Google first starts deciding where to rank videos, and then for the next 4-6 weeks ensuring your video has good background stuff going on behind it (Social media, engagement and link building etc.).
As with all marketing and videos in general: good video marketing skills alongside great sales funnels will always see exciting results.
Happy videoing!