7 Great Content Offer Examples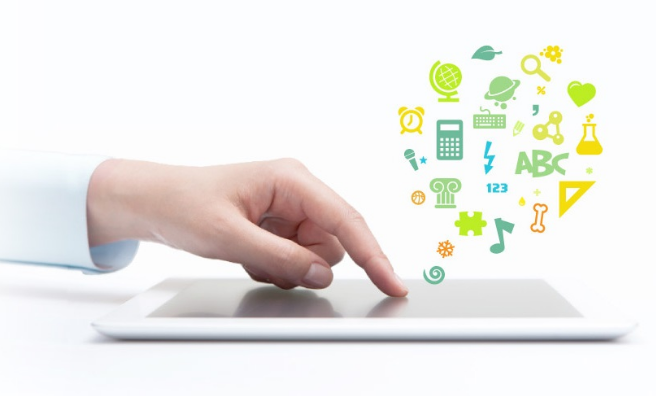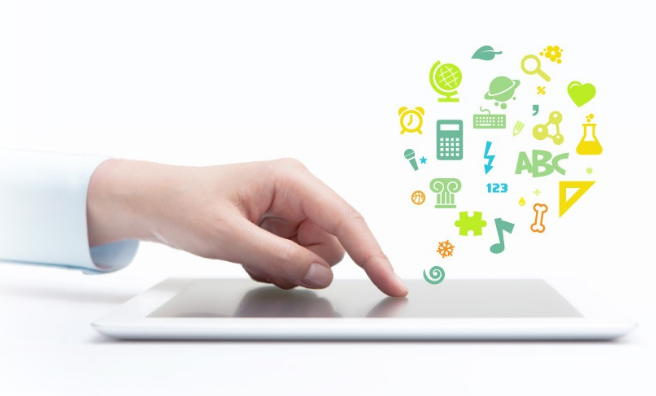 Get your creative juices flowing with these inspiring examples of absolutely fantastic content offers but first of all, what entails a great content offer?
What makes a content offer great?
There are so many aspects to a content offer, but what is it that makes a content offer stand out? What makes it effective? To keep it brief there are three main points you need to keep an eye on when creating a content offer:
It must provide a solution to ONE problem that your typical buyer persona has.
It should be quick and simple.
It must stick to specific stages in the buyers journey.
Examples:
1.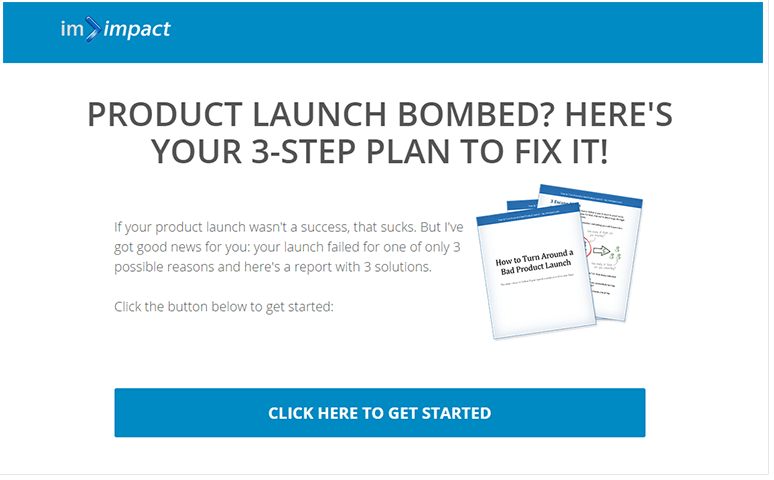 This example from www.imimpact.com is a free whitepaper. Whitepapers are a very convenient content offer to create (for you and the prospect) as it's shorter than an eBook, so it won't take you ask long, and people do prefer to read shorter information or else it can become overwhelming. Creating a content offer may seem intimidating, but if done strategically it doesn't have to be. To find a topic, root through old blog posts and expand on the most relevant one!
2.

Birchbox's Beauty Advice is highly sought after by women of all ages! This popular name sells monthly subscriptions of their beauty boxes. They really know their buyer personas well and this works to their benefit, as women who order these beauty boxes may not know how to use certain types of makeup or other products so they create opt-in how-to videos of useful beauty tricks. This shows potential customers that it's not as intimidating as one may think! They then have a special offer at the end of the videos getting new leads to commit to a transaction early on. Genius! What girl wouldn't love a free Wonder Sponge?!
3.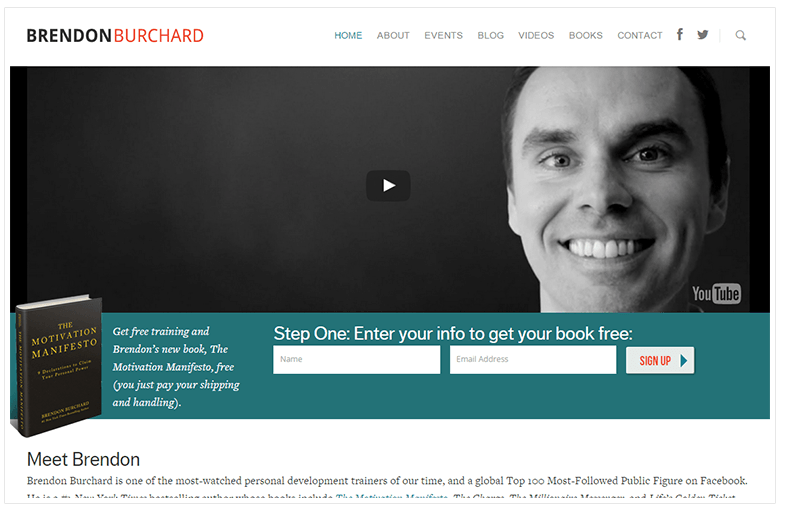 Brendon Beauchard offers you a free book (not including shipping). This is something that isn't seen too often so it stands out and seems more valuable to the potential customer. This free book is a great idea as it goes against the flow, it is quite common to give away eBooks, why not give away a paperback? Another great aspect to this content offer is the fact that you're getting new leads to commit to a transaction early on so you are instantly building a list of buyers.
4.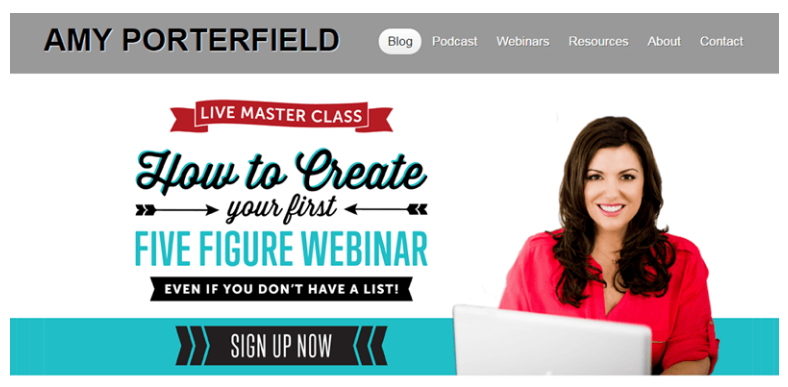 Amy Porterfield offers you a pre-recorded webinar. These are a fabulous idea, really think about your buyer, in most cases they likely have a really busy schedule right? Making time to attend a webinar buts the chances they will view it quite drastically as something might come up or they might already have plans. With a pre-recorded webinar one can watch it whenever suits them. They can also re-watch / re-listen as many times as they'd like. According to Amy, "now I do tons of webinars every year – they're my primary way to reach new audiences. In fact, nothing else has been so successful for growing and scaling my business."
5.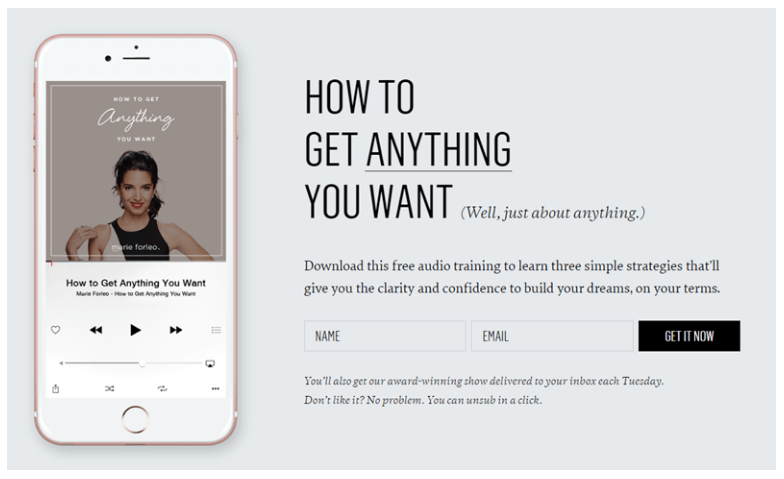 Marie Forleo is always creating free audio files with super catchy names such as "How to get anything you want" which is SURE to capture the attention of many! Marie Forleo is known for her appearance on Oprah, also for her own TV show MarieTV and finally for her published book. When it comes to your potential customers you have to make everything as convenient as you possibly can. An audio format is a great way to do this because it can be listened to whenever. Literally, it can be listened to while driving, during your lunch break, at the gym and so on. It also has the added value of leaving the prospect feeling the personal value when listening to your actual voice.
6.
Hubspot has this great tool, the key to this content offer's value is that it can really better your company without any massive amounts of research and reading. This approach is really an all-in-one marketing tool. All you have to do is enter your URL and email address and the software does the rest. A useful tool or software trial will have the engagement of a fun quiz, but also provide a useful benefit for your visitor.
7.

Whole Foods, a natural grocery store giant has an incredible brand as well as an exceptional blog to match. Their blog has a very clean design and helpful articles that you have to sign up to read. Though this isn't a content offer in itself, it is still a great example as they really know their buyer persona so well, with content that is highly targeted. For example, they wrote a blog post on how to save money on weekly grocery trips, who doesn't want to save money? Saving money on routine grocery shops is something that everyone is interested in! There are also a lot of different recipes, but not just regular ones, ones that have different benefits like clear skin, or quick morning fixes. These posts make their prospects interested, and then leads them towards the coupons which will then lead them into their store to spend, moving the prospect swiftly through the buyer journey.
Conclusion
As you can see, content offers come in so many different forms. As long as it provides a solution to ONE problem that your typical buyer persona has which is quick and simple and sticks to a specific stages in the buyers journey you will be sure to have a fantastic and successful content offer!